About 4 months ago I went on a date with someone I met on OkCupid, she was three years older (25) and I was definitely punching above my weight... so nerves were through the roof. We went to a bar but it was really nice and the dress code was smart casual. I'm there 45 minutes early, you know, getting some dutch courage... next thing you know she comes in wearing a 1990's like blue and pink shell suit like this.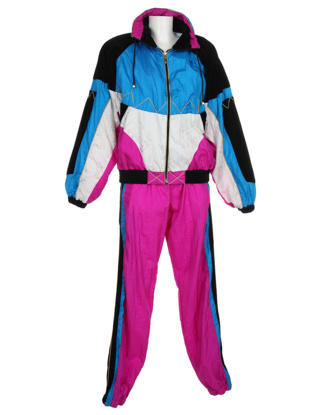 She is a completely different person (looks the same but personality, not so much) than I was talking to online.

Anyway, conersation is terrible but I'm staying to be courteous. We order food... and then she starts breaking the crusts off of her pizza and flinging them at me whilst yelling "fire in the hole".

I wrapped it up 10 minutes after we finished eating and we never spoke again.
Updates:
---
Most Helpful Girl
This guy had been trying to get me to go out with him since senior year of high school (3 years.) i finally decided to go out with him out of pity. Thinking, "hey maybe he's a nice guy and isn't absolutely insane) We went to a really fancy restaurant for our the first date, and he brought a wedding ring. :)
Most Helpful Guy
Very long story short

I was given a pity date. She invited her friend who was also trying to get out of a bad date to join us. She knew the bartender and made sure she got me really drunk. We went to the dance floor and I was so drunk I didn't even notice the girls ditched us and I was basically dancing with the dude her friend ditched. I left the bar, wandered around downtown looking for a cab. Found one, got it to drop me off 10 blocks from my place (im pretty sure she put something in my drink too...) because it was nice outside. I lay down in a field to look at the stars. I pass out. I wake up the next morning to the sound of kids playing - I passed out in a soccer field on a school day. I still have the memories of the supervisors in their reflective vests staring at me and a few kids in the distance looking as I stumble my way to my house a couple more blocks away.

Worst date ever