Okay, so some of you may know I've been crushing on a girl. She confessed into not wanting a relationship atm due to her not being in a comfortable position due to things at home. This is what she said to me: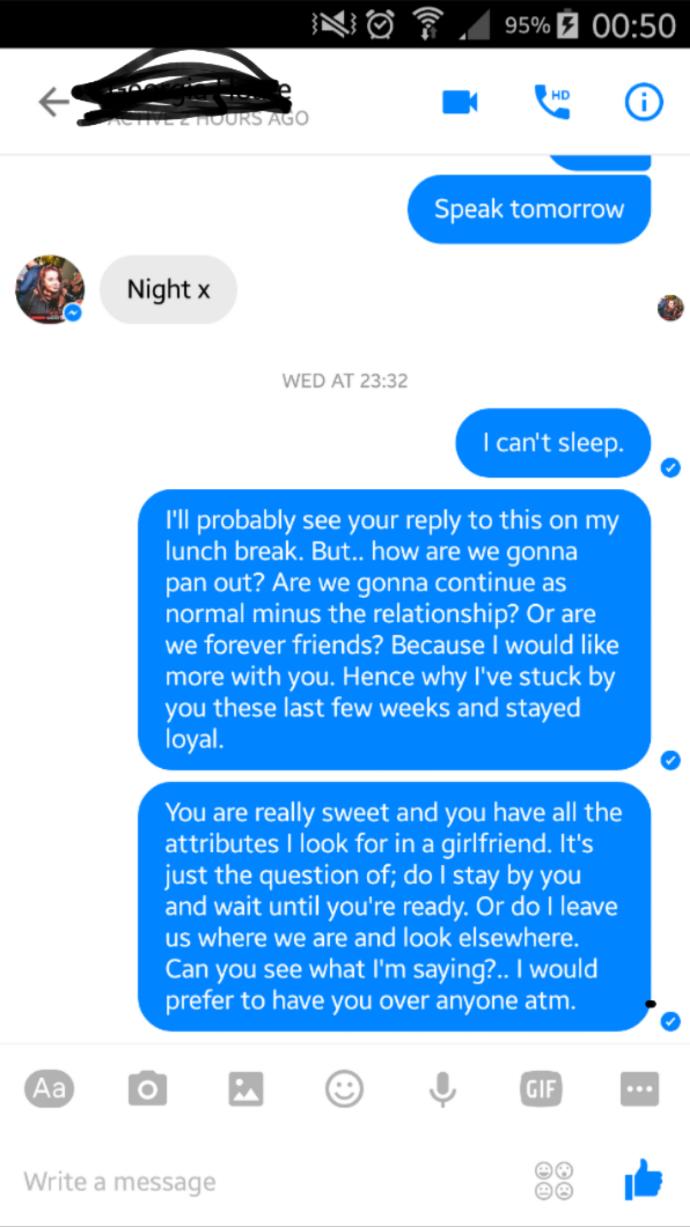 I genuinely really like her and she is the same. I haven't really gone this far with a girl before; so this is kinda new ground for me.

What should I do?
Updates:
---
Most Helpful Girl
Most Helpful Guy
"I got friendzoned" You practically friend zoned yourself with all this lovey-dovey BS https://oi68.tinypic.com/4ihgk3.jpg like you should have kept that stuff in your head, WHILE easing into an R-ship with her, after you guys had gotten closer. Because you not only put her on the spot, you gave her a legit reason or should I say "chance" to write you off via the "But... how are we gonna pan out? Are we gonna continue as normal minus the relationship? Or are we forever friends? Because I'd like to be more with you" stuff.

Next time, don't ask the girl what you guys are GOING TO BE. Naw try to make it be the way you want between y'all 2. And before she even replied you "fucked up again" with that 2nd message's content. Because you're just giving her another reason to "reject you" or "forcing her hand" in this whole matter. Thus taking a potential girlfriend away from yourself (you could have had her if you waited a couple of more weeks I bet LOL).

"What should I do?" Usually I'd say "quite being her friend and go on to the next girl" but you guys actually seem like good friends. So stay friends and hope she actually wants you later on.