http://waterfordwhispersnews.com/2016/07/11/man-on-date-insisting-on-paying-for-meal-cant-really-afford-it/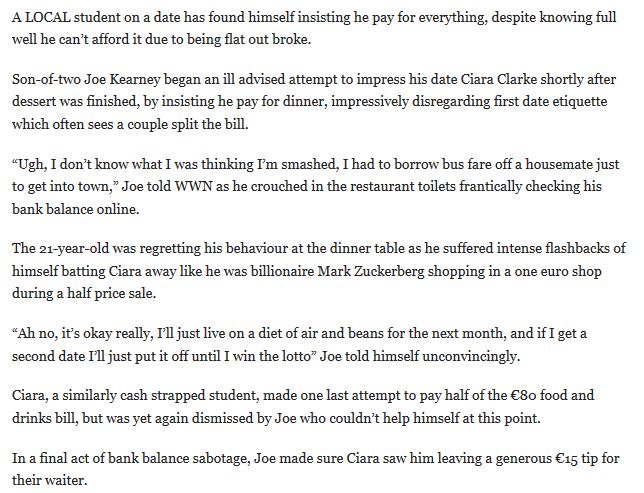 This is old news but i don't care.
So there is this guy Joe, who was asking out a woman on a date (both of which are broke students) and went to a typical restaurant date and he insisted on paying for everything. Then his bank balance basically said "nope" and was unable to cover the expenses (80 euros in total, so both could have a full stomach and that is on the first date!).
My thoughts:
1) Why attempt to do things, when you know you can't do it or can't cover the expenses?
2) Why restaurants as date one?
3) Why choosing a pricey date?
4) Now, that all the talk was blown by the truth, that he couldn't afford it, he made himself look like a typical clown in front of that girl and has basically lied on the first date (being able to cover the expenses). All impressions went effectively down the drain. This reminds me of someone, who wanted to lend money from me to spend that money similar to this to impress the girls.
5) Ugh!
Updates: