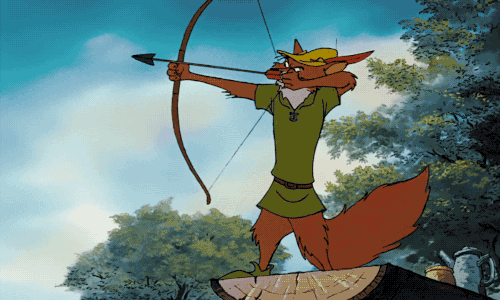 Results of previous poll:
Aristocats: 3.7/5
Jungle Book: 3.8/5
Sword in the Stone: 3.1/5
One Hundred and One Dalmatians: 3.5/5
Sleeping Beauty: 3.2/5
Lady and the Tramp: 3.5/5
Peter Pan: 3.6/5
Alice in Wonderland: 3.7/5
Cinderella: 3.2/5
Bambi: 3.6/5
Dumbo: 3.4/5
Fantasia: 3.4/5
Pinocchio: 3.1/5
Snow White and the Seven Dwarfs: 3.3/5
5/5 Best Disney Animated feature ever!

4/5 I love this movie a lot

I have never seen Robin Hood
Select age and gender to cast your vote:
---
Most Helpful Girls
little John n Robin Hood a walkin through the forest

I loved this one
I've never seen this one, tbh, it doesn't interest me much.
Most Helpful Guys
Absolute, unconditional, all time favorite.
The music is a blast, the story is fun. It's laugh out loud funny.

Two years ago me and my brother were board and we put it on randomly. Hadn't seen it since we were kids, and we loved every minute of it.
If there is one single Disney movie that is vastly under watched, and under appreciated, it's this one.
I liked it as a kid.

I kind of like the theory that this Robin Hood is set at some time in the past in the Zootopia universe.