Part of your worrrrld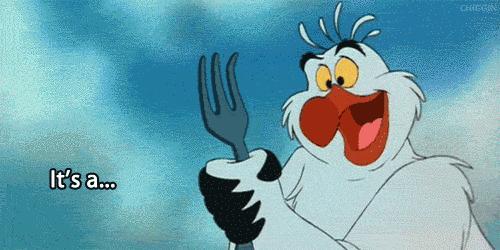 Under the sea
^^ Evillllll
Results of previous poll:
Oliver and Company: 4/5
<- best rated so far
The Great Mouse Detective: 3.6/5
The Black Cauldron: 3.6/5
The Fox and the Hound: 3.7/5
The Rescuers: 3.6/5
The Many Adventures of Winnie the Pooh: 3.7/5
Robin Hood: 3.8/5
Aristocats: 3.7/5
Jungle Book: 3.8/5
Sword in the Stone: 3.1/5
One Hundred and One Dalmatians: 3.5/5
Sleeping Beauty: 3.2/5
Lady and the Tramp: 3.5/5
Peter Pan: 3.6/5
Alice in Wonderland: 3.7/5
Cinderella: 3.2/5
Bambi: 3.6/5
Dumbo: 3.4/5
Fantasia: 3.4/5
Pinocchio: 3.1/5
Snow White and the Seven Dwarfs: 3.3/5
5/5 Best Disney Animated feature ever!

4/5 I love this movie a lot

I have never seen The Little Mermaid
Select age and gender to cast your vote:
Updates:
And here we are finally in the Disney Renaissance era where they finally got their stride back and made some awesome classics just like the old films of the 40s and 50s. This will last until Tarzan in 1999.
---
Most Helpful Girl
Voted 3, but really wanna vote 2.5.. the music is great, the art is great, but the characters... -_- There's just so much more you could do with the original story as a guideline... instead we have a rich girl acting like she has real issues, comolaining about not being able to explore, disobeying her father and getting into deep trouble because of it, and then magically getting a ticket out of the mess she got herself into with no effort on her part. If i wanted to see that, id see a reality tv show about a rich girl wanting to explore, getting into trouble, and getting bailed out of said trouble. This might be why many people like this movie so much, but I don't know. All i can see is another entitled literal princess with no personality rebelling and still getting what she wants. -_-
Most Helpful Guy