Demi Moore as Esmeralda ^^
Kevin Kline as Captain Phoebus
One of the darkest disney songs ever^^ Very complicated villain too. love Tony Jay's Voice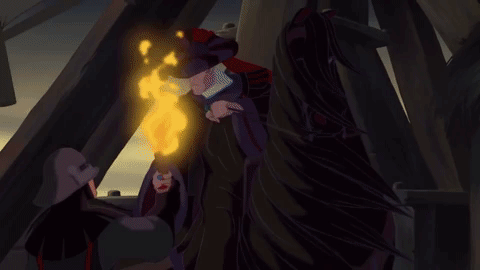 Results of previous poll:
Pocahontas: 3.3/5
The Lion King: 4.1/5
Aladdin: 4.3/5
Beauty and the Beast: 3.7/5
The Rescuers Down Under: 3.6/5
The Little Mermaid: 4/5
Oliver and Company: 4/5
The Great Mouse Detective: 3.6/5
The Black Cauldron: 3.6/5
The Fox and the Hound: 3.7/5
The Rescuers: 3.6/5
The Many Adventures of Winnie the Pooh: 3.7/5
Robin Hood: 3.8/5
Aristocats: 3.7/5
Jungle Book: 3.8/5
Sword in the Stone: 3.1/5
One Hundred and One Dalmatians: 3.5/5
Sleeping Beauty: 3.2/5
Lady and the Tramp: 3.5/5
Peter Pan: 3.6/5
Alice in Wonderland: 3.7/5
Cinderella: 3.2/5
Bambi: 3.6/5
Dumbo: 3.4/5
Fantasia: 3.4/5
Pinocchio: 3.1/5
Snow White and the Seven Dwarfs: 3.3/5
5/5 Best Disney Animated feature ever!

4/5 I love this movie a lot

I have never seen the Hunchback of Notre Dame
Select age and gender to cast your vote:
Updates:
I personally like this one a lot. its darker themed, very complex characters and the songs are catchy.
---
Most Helpful Girl
Most Helpful Guy
This is one of my big brother's favorite films. However, it is a little dark and dramatic for me.

I not opposed to watching it, I just would not find myself watching it on my own It is Disney masterpiece however