What would you do to disciplinate them?
My brother is 16, and has c average grades. After school he goes home and play in its phone until 6pm. Afterwards he will play it's xbox until 11pm. He only stops playing to eat or if he has a project do, and to sleep. He doesn't want to do chores, needer help clean, nor do its own laundry.
I am tired of its attitude and the disrespect towards my parents. The other day I was close to smashing it's xbox and 30 games, because he was screaming at my mom because he was hungry (there was food in the fridge), but I stop because it would cause chaos.
My mother is old already and is showing alzheimer symptoms. She is trying to avoid my brother as much as possible, to avoid confrontations.
Please help?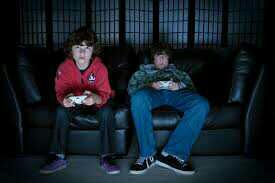 Updates:
---
Most Helpful Girl
Take away his gaming consoles. Don't buy him games anymore. Tell him he has to earn them and that should make him get a job. I have friends and cousins who have brothers who are done with highschool but stays home all day and plays games. They have social anxiety but that shouldn't be an excuse not to help parents out to pay bills. Their parents baby them so they feel it's okay not to work. Maybe stop babying your brother and let him suffer in order to change.

There must be a reason why he is doing all of these things. Maybe he has social anxiety so he rather just stay home and play games. But it seems like it's an addiction and it's not good on his grades either.

Tell him if he can play games all he wants once he finishes school well and goes to a gaming school to find a job...
Most Helpful Guy
Before you take the games away have a talk with him about reality. It often happens that a person escapes into video games to avoid reality. He must realize the importance of the situation, but avoids dealing with it. Talk to him. Tell him that you know how hard it is. Form an alliance with him to get things in order. Find a way to explain that you have common goals. Maybe work xbox time into it if both of you do good.

You can always hide the xbox, but he will look for other ways to be self destructive.