What's a fad you hope will never make a comeback?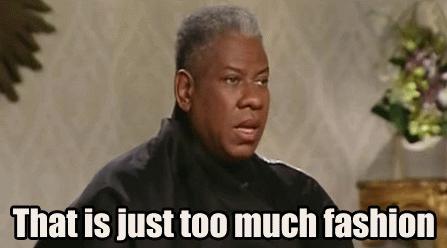 Updates:
---
Most Helpful Guy
Most Helpful Girl
I'm not much of a fan of weeaboos. I'm all for living and let live, but they make me question my morality since I just wanna punch them in the shnozz

Soldiers riding horses. We should keep animals away from our silly games as much as possible.

Overly baggy jeans. Even women were wearing them when I was growing up in the 90's. It looks so ghetto and trashy.

Definitely men's haircuts for straight hair and bangs. I wore that hair style back in the 70's when i went to school. I sure hope the style is gone.

Swabbies.
Wafflestompers.

Oh wait... they both did!

Okay, long hair. The greaser look.

Hmmm... everything comes back around. :(

LOL

Small Jane Fonda butts, or at the least, those 80's workout outfits

CHEATING... it's the worst fashion today

Sagging Pants, visible underwear is nasty looking!!

Needle thin eyebrows. Some thin eyebrows look good but too thin is outrageous. Feather eyebrows are weird too.

The drag queen makeup all the Instagram girls and YouTube gurus wear.

I have one in mind but I'm not saying it because a lot of you guys will disagree with me, so I'm going to put skirted pants as my answer instead. I have no problem with what people choose to wear, so when I say this trend must die, I don't really mean it. The thing is with the fad that I refused to state in my opinion is that it's a disadvantage to me because when I go to the store and look for (not mentioning the item) regular ones, I only find the ones that I don't like since they're a trend. More so, they're also inconvenient, makes shopping hard :/


The short shorts that all the butt is out.

Those bright coloured leg warmers
Click "Show More" for your mentions
Select as Most Helpful Opinion?
You cannot undo this action. The opinion owner is going to be notified and earn 7 XPER points.