What's your comfort food? Is your comfort food your favorite food?
What food puts your mind at ease and makes you forget your problems/troubles?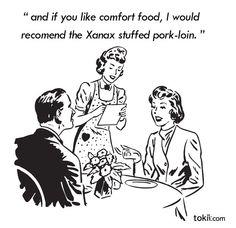 Updates:
---
Not one of those comfort eater types but maybe a huge slab of meat, like a giant turkey leg, served along with some beer would make me excited and happy and forget my troubles for a moment.

im not really a comfort eater im more of a comfort sleeper but if there is a comfort food for me its Fastfood burgers such as McDonald's Burger king and Krystal's something i can eat with out the trouble of making it

Hot Cheetos all day every day. Mmm. Okay, maybe not all day every day. Also Grilled Cheese.

Food does not do that.

Well, chocolate does, but not in the long run.


Something really delicious

That would be a drink called Jack Daniels.

When I'm stressed, I eat a shit ton of toast. I was studying for an exam in my psych class and discovered why. Carbohydrates are easier to digest than other foods, so they're commonly craved when people are stressing. It's the body'sway of trying to keep energy up because it perceives stress as evidence of danger.
But my favorite food is lasagna.

My favorite food is spaghetti and I usually treat myself to it when I'm feeling down. That or any type of pasta, really.

Tomato soup and macaroni and cheese are the first two things that come to mind.

Soup or cookies, depending on what I'm seeking comfort from.

Kettle cooked jalapeños chips, mm I could eat two bags in one day 👅

Dark chocolate fixes everything. Not my fav food though.

Bacon. Not my favorite food though, I like fettucini Alfredo.

Pizza, chips and nuggets.

pani puri or this icecream

Mangoes are my comfort food.

Not food... just plain soda water + coffee.


Key lime pie all day everyday!
Click "Show More" for your mentions
Select as Most Helpful Opinion?
You cannot undo this action. The opinion owner is going to be notified and earn 7 XPER points.