WHAT'S YOUR GARLIC BREAD NAME?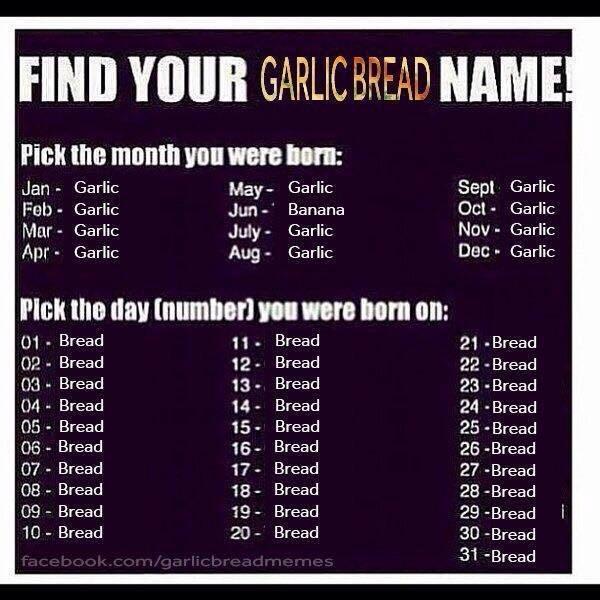 Updates:
---
This is too complicated.

I'm gonna guess garlic bread.

Help! I got Garlic Bread but I'm on a low carb diet!

Unless your month is June it will be garlic bread and for June it is banana bread.

Thanks for wasting my time

I got Garlic Bread. But now I have Garlic Breath!

Wasn't expecting to get Garlic Bread.

My garlic bread gets dipped in red sauce

Garlic Bread you garlic stealing whore

I feel like I will be the only banana bread lol.

Jun 3rd over here lol 🤓

i got chicken noodle soup

Damn it, I got Garlic Bread. I wanted Garlic Bread.

Haha, wow, it's so funny, I love my garlic bread name! It's Garlic Bread!!! :D OMG

Holy shit it's Garlic Bread! That was so unexpected.

Garlic Bread 😌 What a coincidence.

Garlic bread!!! Omg so cool!!!

Go figure. Banana Bread. 🍌

😏 this bitch here is a Garlic bread
😎 Are you jelly? Lol

Click "Show More" for your mentions
Select as Most Helpful Opinion?
You cannot undo this action. The opinion owner is going to be notified and earn 7 XPER points.