WHAT'S YOUR GARLIC BREAD NAME?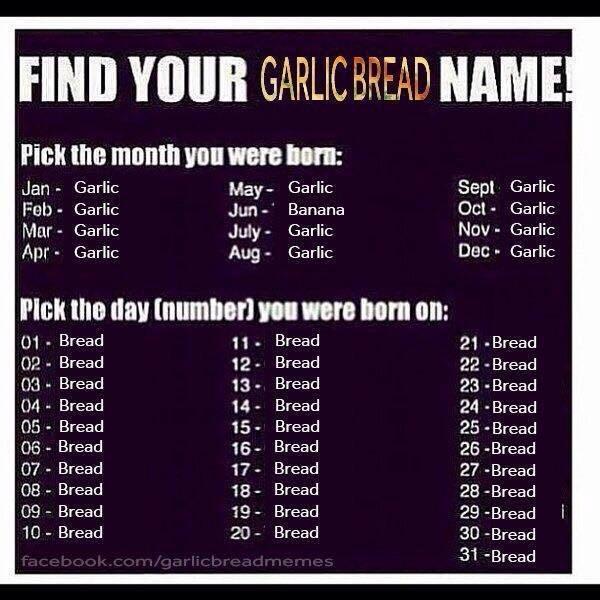 Updates:
---
I got Garlic Bread. But now I have Garlic Breath!

Help! I got Garlic Bread but I'm on a low carb diet!

My garlic bread gets dipped in red sauce

Wasn't expecting to get Garlic Bread.

Garlic Bread you garlic stealing whore

This is too complicated.

I'm gonna guess garlic bread.

Thanks for wasting my time

Unless your month is June it will be garlic bread and for June it is banana bread.

I feel like I will be the only banana bread lol.

Jun 3rd over here lol 🤓

i got chicken noodle soup
Damn it, I got Garlic Bread. I wanted Garlic Bread.

Go figure. Banana Bread. 🍌

Garlic Bread 😌 What a coincidence.

Haha, wow, it's so funny, I love my garlic bread name! It's Garlic Bread!!! :D OMG

Holy shit it's Garlic Bread! That was so unexpected.

Garlic bread!!! Omg so cool!!!

😏 this bitch here is a Garlic bread
😎 Are you jelly? Lol

Click "Show More" for your mentions
Select as Most Helpful Opinion?
You cannot undo this action. The opinion owner is going to be notified and earn 7 XPER points.