Which of these dessert pizzas look the best?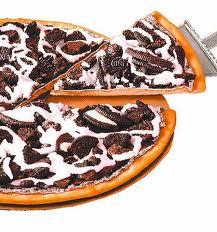 Updates:
---
Is that oreos and sultanas on the bottom pizza? Also, I think the top one would be the best because all of those things would melt amazingly into the pizza. I'd love to try the slice in the second pizza with the fun-size bars but jaffas wouldn't stay on a pizza (well, maybe with enough peanut butter) so I have to go with the top one.

The one with strawberries.

Would wash them off (the icing on them) and just eat them.

- Cannot afford to eat bad food for a while. Thanksgiving is coming!

The one with strawberries and chocolate... yummmmm
My favorite dessert is chocolate covered strawberries

The second to last or last one.

All of them. lol I'm such a fatass.

Personally, I like fruit pizza. Of those.. Depending on what the second to last is, that one. After that, the last.

The first one with all the candies

They all look disgusting tbh, apart from the one with strawberries.

The top one... it has way more chocolate

The third to last, love the fruit and chocolate!🍓🍫🍕

just the second one to the last

Why pick, when they're all badass lol

The last one I guess but they all look bad.
Number 4 - The fruit and nut one
Click "Show More" for your mentions
Select as Most Helpful Opinion?
You cannot undo this action. The opinion owner is going to be notified and earn 7 XPER points.