I am of the opinion that any food can be eaten for breakfast. I can understand that most people would not normally eat a burger and fries in the am. I have eaten a burger and fries with a beer in the AM however I was a graveyard stock person at Walmart.
I know that some people don't want something really heavy first thing. Sweet things will definitely get your energy up but you need something substantial so you don't crash.
I like to have a single or double serving of fruit juice and some bread and a little protein. This morning I got up and slammed a pineapple juice and started cooking some nacho fries while drinking a Dr Pepper.
What do you think about eating non traditional food in the morning? Like nacho fries or something like that. Do you or some one cook something or do you hit the fast food for your first bite?
Do you eat a typical breakfast type food for lunch or dinner? I have eaten French toast for dinner before and I enjoy it.
I had to take a pic of my newly made giant nacho fries this morning. I was feeling creative and motivated to actually cook.
The nacho fries have fries of course. Refried beans, 97/3 hamburger taco meat with onions, nacho cheese, shredded cheese, salsa , and sour cream. I feel really full. Lol.
I hope you all have a good day and stay safe and healthy.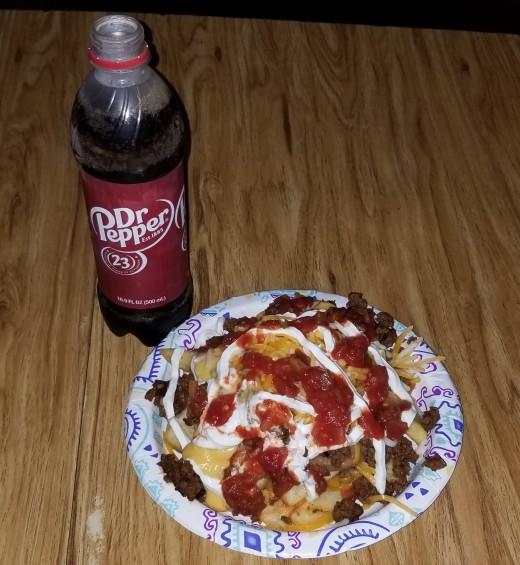 Updates: