Seriously its astounding how someone who chooses to date someone who is married, knowingly date the married person, doesn't think they have any fault for one, the persons marriage falling apart, and two, the negativity that falls on them once its found out. I find it incredibly comical. I was taught when i was young, you dont touch another man's wife.. Period.. You're a worthless person when you do that.. Hence the reason i make sure the person i am interested in (before i got married mind you) is VERY single. Like not even close to being attached to someone, not even a friends with benefits.. Why dont we teach our daughters the same thing? And if we do, Why do these women "Not my fault, I'm not responsible" When they are found out? Because news flash sweetheart, if you knew he was married, and chose to get into a relationship with him IT IS YOUR FAULT.. Its his fault as well, maybe more so, because he made the choice to step out in the first place, but that does not absolve you of your part in it. It shows a severe lack of morals, and just abject stupidity..
I leave it to you.. Why would a man or a woman chose to do this?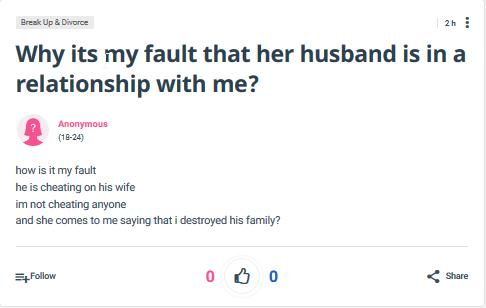 Select age and gender to cast your vote:
Updates:
+1 y
screw this gendered stuff.. Why do people do it.. Because men do the same stupid things..