How do you feel when you see this image?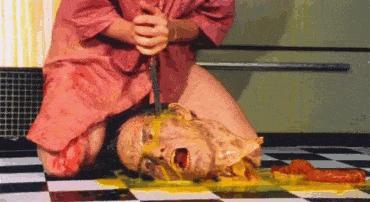 Please comment how you feel.
Updates:
---
Not very confortable...

The detail with the knife and the mouth is what really makes me kinda freak out.

im laughing ahah thats how i feel.. you get me fam

fascinated.
is that mustard?
Well i was thinking it looks like Arnold S & why is there yellow stuff...

Once the gif started working now I'm feeling disturbed because of his mouth.

Like I wanna throw up ewww wtf
Click "Show More" for your mentions