Which 4 items would you choose if you were stranded on a deserted island?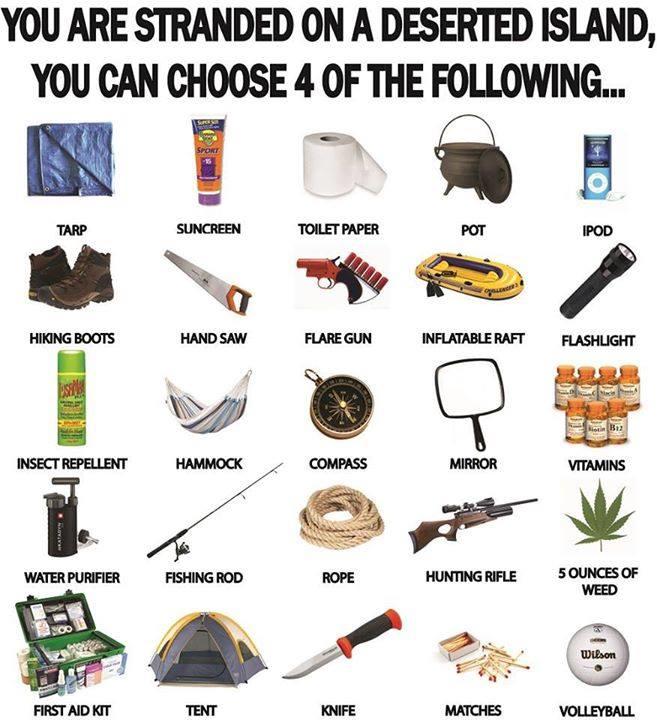 You can only choose 4 items!!
Updates:
---
Tent, pot, matches, rope.

Essential things you need to survive is shelter, food, water.

Tent because it has loads of helpful things like a fabric tarp, poles, mesh.
I can also use it to build a water still along with a pot with fire and there is plenty of sea water on deserted island i can use to make drinkable water. Pots are also difficult to make.

matches because making a fire otherwise is difficult and wastes a lot of time getting the required sticks and causing friction. and is even more difficult when its wet which would be common on a deserted island. the matches would probably last long enough since i can keep a fire going with buried ashes. if that fails i can always use a match again and not have to painstakingly do a friction burn again.

Rope is always useful and difficult to make if you dont have it.

i would have liked a cutting tool, but i will have to do without and use rocks instead or levering using rope. i can easily create tools for hunting using sticks.

So i have shelter, can get water and tools for food. I can also use fire or large signs as signals to nearby boats or planes.

Mirror and toilet paper, cause toilet paper would be scarce so I'd need the mirror to see if I am done wiping, so I that I dont end up using too much of it. Aaaaaaaand, a knife and a volleyball, for reasons.

s-media-cache-ak0.pinimg.com/.../...4410932580.jpg

Knife, Matches, First Aid Kit, Fishing Rod

I'd be alright without the knife and the fishing rod, but they would make it easier.

It would take time to make a decent ember catch and to shape a stick for a hand drill, or to find chert or flint rocks to spark with.

I could break off rock to flint nap a blade. Plant fibers or vines and shaped wood could make do for fishing. Or a spear might work.

The first aid kit I'd consider invaluable because I don't know plants well enough to make an apothecary of them.

Temporary usages of tools seem pointless. So things like a flashlight, iPod, toilet paper are stupid. Only the first aid kit is an option to consider since bandages don't rot away.

Therefore I would go for Tent, Pot, Knife, Rope, Hand Saw, Water Purifier and Hiking boots. 4 of those 7.

If it's a fairly warm island, I could go without the tent. Hiking boots are nice to have, but I think the others have more use. And then have to choose between Knife and Hand Saw.

1. Knife
2. First Aid Kit
3. Tarp (doubles as a hammock or tent)
4. Pot

I actually have been stranded on a deserted island before, so I have some experience with this and of the items on that list, those are the most useful. If I could take more than 4 items, I'd also like the mirror and the rope. Maybe also the hiking boots.
Oh, and nice reference with the volleyball. One of the original Wilsons (they had several) is now on an island near Neiafu, Tonga. They didn't shoot the movie anywhere near that island, but Tom Hanks visited the island resort and left the ball there as a present. The people there hadn't seen the movie, so they used it to play football (soccer). It was barely recognizable a few years ago, so they probably threw it away or lost it by now.

When doing this, I have to consider not only the most important thing, but also the most durable things and the things least likely to be found on a deserted island.

1. Knife
2. Water Purifier
3. Rope

I'm torn between hiking boots for invaluable comfort and safety and the first aid kit

Handsaw (for easy wood)
Matches (for fire)
Knife (all around utility/hunting)
Flare gun (Best chance of getting help, flare gun at night when there's an airplane)

Hammock (I Miss You Jack!)
Knife
Mirror
Flare Gun

knife
tent
pot
to survive and the flare gun in the hope to get off that stupid island again

An m1a1 tank, a subterranean bunker, r2d2, and a laser rifle

I'd choose a knife, matches, rope, and a water purifier

Hiking boots, compas, volleyball, water purifier since I'm addicted to water.

Hand saw,
Knife
Matches
Tent

water purifier , first aid kick, the raf and saw

Knife, Water purifier, hand saw and pot.
Knife, tent, fishing rod and pot.

Most things on this list won't last, even the matches. If it's long term I wouldn't take the matches. The water purifier has a filter and that won't last long either, the pot for boiling water has long term use and doubles for food. The tent I think is a must, the amount of bugs and ticks and stuff it would be worth it. Have you ever seen naked and afraid? The bugs are the one thing that make them want to crack the most. You could almost build on your tent with foliage and stuff to make it more wind proof and warm and hidden from animals. A rifle would be pointless, it would run out of bullets, the knife can kill and double for use in gutting and skinning animals. The fishing rod is how I'd catch my food. 👌 king fisher over here.

Tent , hunting rifle, flashlight , fishing rod.

I wanted to pick the inflatable raft but I figured it would do me no good since I am stranded apparently.

a tent and internet and laptop and food supply and toliet paper!

Tarp, hammock, flare gun, matches

Tarp, rope, matches, knife ;)
All I need again is a good book and I'd be set lol.
I won't even need saving hahaha

Tarp
Handsaw
First aid kit
Water purifier

Tent
Knife
First aid kit
Fishing rod

Hand saw, water purifier, pot, matches. I'd take it easy, build myself some shelter and wait it out.

Tent, fishing rod, suncreen and a knife

boots, flare gun, knife, and a tent
Click "Show More" for your mentions