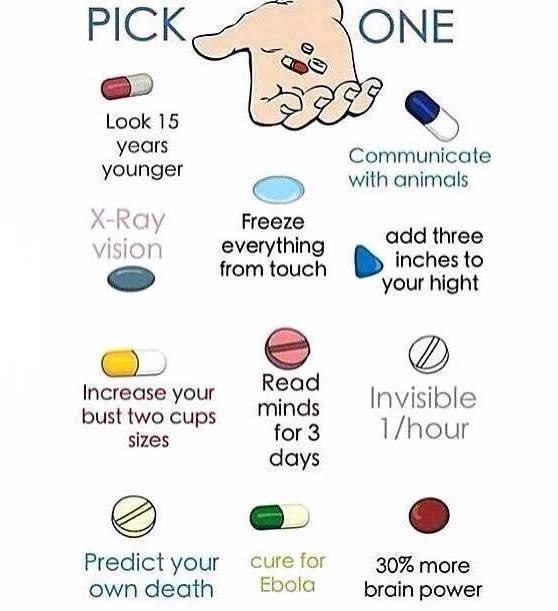 I could add the last row for pills

communicate with animals
add three inches to your height
invisible for an hour
30% more brain power

please comment below if you pick one of these
increase your breast size by 2 cups

freeze everything from touch
Select age and gender to cast your vote:
Updates:
---
Most Helpful Guy
I'll choose 30% more brain power. That would help me for a lifetime vs something like being invisible for an hour or mind reading for 3. Being intelligent I would say is an incredible importance in today's society and 30% is quite a substantial difference. Even if it isn't a drastic change at first, I feel the amount of times it would help me out in my life would be great.

Communicating with animals would also be kind of cool though, I must say.
Most Helpful Girl
Youthful look: I'm black.. and we don't crack
Ebola: Not that serious anymore plus there will be a new panic every yr.
Mind reading: 3 day's... Not shhh
Ice queen: Elsa been there done that
Know my clock out date and how: I live in the here and now why ruin it with that knowledge. That'll only influence me to not do the thing's I want now or make me do crazier things now. Plus I'm not trying to go to hell for that.
Milk jugs: I'm a 42D I'll pass on the backaches
Xray vision: some things... just aren't meant to be seen lol. Socks in the pants, waste trainers, a murder next door, etc etc
Animal's: nah cause the only animal I'll communicate with is a chicken after I fry it up😂
Shirtie:I like being 5'1.5
Invisibility: one hour isn't enough and why do I need to be invisible for? That's a little creepy unless I was saving lives than ok.
Soooo more brain power because I'll be able to create a way to obtain more pills to give me all of these benefits from the other pills and more👏👌👐 except predict my death I'll pass that's just depressing even now to think about lol