My DREAM in LIFE is to__________?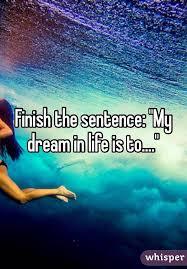 Updates:
---
Step 1) to collect a lot of money and channel it in market giving me continues output of cash.
Step 2) one way - use this cash to rediscover the old researches and fix the mistakes which scientists like Nicole Tesla did in his stuff and fund and lead a team of scientists to take this lifestyle to a whole new level of advancement, giving us access to basically free energy, and energy transfer to a huge distance of 100kmsq wireless..
Secondary way - take that cash use it to get some advanced techs left around by ET, perform reverse engineering and fuck yeah!.. Make something new..

Get married and raise a family, and finish my book, become a well known painter and maybe someday owning my own gym.

My dream in life is to retire in the next 10 years, get a larger sailboat and sail up and down the coast searching for warmer weather. Fish for my dinner and sit with my Corona and lime in my hammock on the deck with my pelican named Lenny.

finish this sentence then go to sleep

Live on a planet where everyone got along.. the downer tho of this.. is I am not on that planet

Save lives, travel the world and meet the girl of my dreams.

get my girlfriend back, before she started dating one of the guys she planned to and have sex with them. Any way maybe I'm hopeless case.

Get paid millions for doing nothing but existing.

My dream in life is to...

... make fancy facebook pictures. So dank.

... set the world on fire.

see everyone healthy and prosperous

to know the reason that why you ask such questions :D

to find out my meaning in life

phuck a lot of girls on the D A I L Y

Be tge same as right know

To travel back in 70s-80s-90s...
1 private opinion(s)Only the asker and the opinion owner can see it. Learn more


My dream in life is to achieve all that I dream =)

TO find the love of my life, and live happily ever after.

İ am not sure. because i am 15. maybe i want to be a electric engineer or doctor etc. and others thanks this i want to be good pianist i mean i want to be good at music. they were my reality dreams. But i have got difficult dreams. they are living a forest. and have little house. i can't Live like second dream. but i will may Live fırst one and i will can go to a village in summer for one mount. and my crazy dreams is travilling work, dancing with Sharks, go to space😃

My dream is to be happy and feel like I've lived life to the fullest.

Have a house I can see the ocean out the windows from!

Make the world a better place <3

To meet someone nice and have children and die but never happens. I guess that's just a fantasy
Click "Show More" for your mentions