What is your favorite food?
Mine is steak and French fries and Dr. Pepper to drink, what is yours?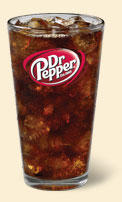 Updates:
---
So far, everything my girlfriend makes. She an excellent cook!!!

Curry or pizza. Favs are Rogan Josh and Mushroom pizza. HEY!! You made me hungry!! *opens fridge door quietly*

Anything Italian. I like mushrooms and as they call them Fungi.. :)

prime rib or fried chicken

Pork ribs with bbq sauce 😍 answer my q please

Definitely sushi and sashimi 🍣🍣🍣

Dr Pepper
Sweet Ice Tea
Burgers
Pizza
Seafood
French Fries

Duck confit and beef welly
Chinese Cuisine, @JordanG like Chicken and Mushroom and And All I can Get on a Huge buffet.
Good luck and Looks yummy. xx

PIZZA! I wish I could eat it every day!

It's a tossup Steak or Pizza.

fried rice and chicken and cashews home made and ginger beer

Medium rare steak, french fries with corn and mashed potatoes, with cola.
Ribs with fries and corn on the cob, with sweet tea.

That's a weird combination... Mine is a toss up between various pasta dishes. Either fettuccine alfredo, lasagna, or ravioli.

Pepperoni pizza & ribena.

Dr Pepper is life. I love pasta.

Churrasco! Brazilian style, so good

Chicken tenders , curly fries , and iced diet coke mmm thanks for making me hungry and thirsty !

I love pizza and biryani (Indian).

I like traditional foods from my country, such as:
- Rendang meat.
- Kalasan chicken.
Hahaha, it must be great to eat all of that right now. xD
Click "Show More" for your mentions
Loading...