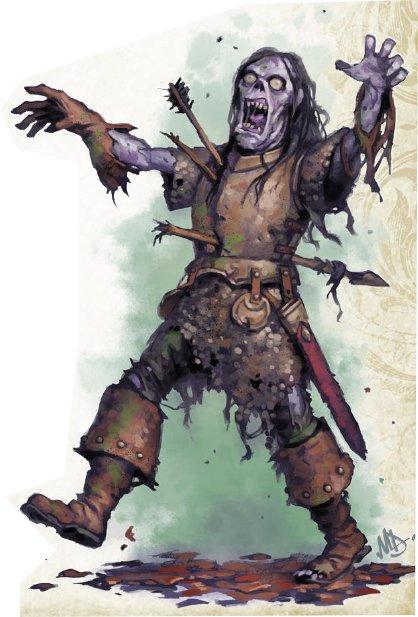 a fictional undead being created through the reanimation of a human corpse. Zombies are most commonly found in horror and fantasy genre works. The term comes from Haitian folklore, where a zombie is a dead body reanimated through various methods, most commonly magic. Modern depictions of zombies do not necessarily involve magic but often invoke science fictional methods such as radiation, mental diseases, viruses, scientific accidents, etc.

The English word "zombie" is first recorded in 1819, in a history of Brazil by the poet Robert Southey, in the form of "zombi". The Oxford English Dictionary gives the origin of the word as West African, and compares it to the Kongo words nzambi (god) and zumbi (fetish).

One of the first books to expose Western culture to the concept of the voodoo zombie was The Magic Island by W. B. Seabrook in 1929. This is the sensationalized account of a narrator who encounters voodoo cults in Haiti and their resurrected thralls. Time claimed that the book "introduced 'zombi' into U. S. speech".
5/5 my favorite mythological creature

16%(3)24%(9)

Vote

33%(6)

16%(3)8%(3)

Vote

0%(0)

16%(3)24%(9)

Vote

33%(6)

2/5 i dont really like it

11%(2)8%(3)

Vote

6%(1)

11%(2)11%(4)

Vote

11%(2)

0/5 worst mythological creature ever!

30%(6)25%(9)

Vote

17%(3)
Select age and gender to cast your vote:
---
Most Helpful Girl
Most Helpful Guy
That third pic would totally be me if I was a zombie, lol. I rate myself about 12 dead species out of 4 lumberjacks if so.

But I dont know, zombies was more fun in the past, its been so damn many zombie movies last 10-20years, but compared to other mythological beings the zombie is pretty boring really. Neither like or hate I guess, they are ok.