How would YOU survive an alien invasion?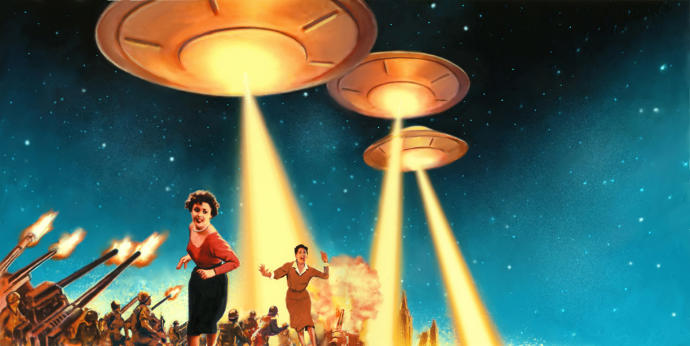 Updates:
---
Most Helpful Girl
Most Helpful Guy
😐 I'd have to pretend to be one of them and then take them down one by one 😂 Among other people who want to take them down too

They would think I'm one of them since I have big eyes too. Though mine would still be a little smaller than theirs. XD

By becoming one of them. Yup, the enemy is walking among you 😛

By running away and blowing up Earth. I'll end up killing humans too but idc really :P

i wouldn't, rdy 2 die lmfao

By totally surrendering to it.


Disguise myself as one of them and carry my baseball bat just in case something goes wrong.

I'd smile and they would be fascinated from my charm😏...😂😂😂

Lmao I wouldn't I'd be too busy trying to save my coconut oil 😂😂😂

The basement. Lol I don't know

With a prob up my butt...
1 private opinion(s)Only the asker and the opinion owner can see it. Learn more


Does it even matter if we actually survived or not?

I mean, humanity is a really divided species to begin with. Wouldn't they just wait until we're badly fighting and destroying each other and badly weakened first before they make any real sudden moves to advance any of their forces forward into position to even attack us?

I mean, even if they never come here to destroy us, we would ultimately still destroy each other because the fact it's in our nature to do so. We badly suffer from the possibility of aggression and aggressive behavior. Always fighting constantly over petty little things, unimportant things, or things that we thought were so important that we'd kill each other over for it. But in the end was it ever really worth it? We're more than likely going to destroy each other first than extraterrestrials destroying us or invading us.

And the other most important question would be what are the motives for them to attack earth and humanity? I suppose if they are really smart asses then they'd just wait it out and let us fight it out among ourselves and destroy each other first before arriving here or they'd wait at least until we're badly weakened from destroying each other first. Or the best and oldest trick in the book to help win any wars: "DIVIDE AND CONQUER".

Ultimate question is if their so advance why would they ever want to come to earth to attack us in the first place? Unless somehow or some way we were the ones had enslaved or captured any of their kind first or something such as when and if any of them crash landed here and had became stranded.

I wouldn't because Hollywood gets alien invasions wrong. If a civilization is capable of traveling light years to make it here, they are more than able to wipe 100% of humanity out. All of us.
There is no way you can survive alien invasions. There wouldn't even be an invasion - chances are they would just set up facilities for whatever it is that they need to extract here while we won't be able to do shit against them.

Imagine a bunch of Gorillas living in a jungle and one day the US comes over and starts cutting down the forest to build an oil rig. What are the gorillas going to do anyway?

why not? you can fuck hot alien women and they can never get pregnant since your DNA is not similar enough to theirs.

Surrendering and pledging to the cause of our glorious new alien overlords.

Well here's how I would handle a... PANIC PANIC PANIC WE'RE ALL GONNA DIE!!!

I'd probe their asses and they'd like it!

I have my blanket , its all good

Killing as many of them as possible before I get killed by one of them.

I would hide and hope I don't get proved

Hope they have some sort of national reserve trust and put us in a planet sized bio dome.
if they want us all dead and have the tec to get to us where probably all dead. other aliens are the only ones that can protect us!

I wouldn't worry about it if trump becomes president cuz he has magic powers and can make problems like crime vanish in a day. So he'd destroy them... but don't ask him how.

We already have. They're called Messicans
Click "Show More" for your mentions
Loading...