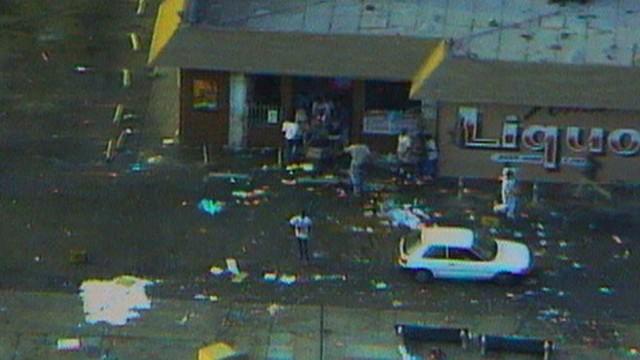 A series of riots, lootings, arsons, and civil disturbance that occurred in Los Angeles County, California, in 1992. The riot started in South Central Los Angeles and then spread out into other areas over a six-day period within the Los Angeles metropolitan area in California, beginning in April 1992. The riots started on April 29 after a trial jury acquitted four police officers of the Los Angeles Police Department of the use of excessive force in the videotaped arrest and beating of Rodney King, following a high-speed police chase. Thousands of people throughout the metropolitan area in Los Angeles rioted over six days following the announcement of the verdict.

Widespread looting, assault, arson, and killings occurred during the riots, and estimates of property damage was over $1 billion. The rioting ended after members of the California Army National Guard, the 7th Infantry Division, and the 1st Marine Division were called in to stop the rioting when the local police could not control the situation. In total, 55 people were killed during the riots and over 2,000 people were injured. LAPD chief of police Daryl Gates, who had already announced his resignation by the time of the riots, took much of the institutional blame for them.
Updates:
---
Most Helpful Girl
The LA Riots were fucking horrible. I wasn't even living in LA at the time but I remember that week still even though I was very young. It was horrible.

Lawlessness in the streets like that truck driver being beaten nearly to death in the middle of the god damn day. I just remember coming home from school and watching shit like that in the TV every single day. I didn't know what to make if it.

I reflected in the La Riots the. Night Obama won thinking look how far we've come... Then there was Furgesin and the other events of late that showed me how naive that sentiment was and this makes me really sad. But I'm glad people at least aren't being quiet about it anymore because it is a problem we as a society need to look ourselves in the eyes and address.
Most Helpful Guy
Recession, base heads trading their welfare check and food stamps for crack cocaine, bloods vs crips wars for territory to sling crack leave the streets painted in blood, militarization of the police reacting to crazy ass people conducting organized crime in the face of prohibition, aggressive police beat a drugged up guy, poor people burn down their neighborhood and then get mad that their not getting their government check to go buy some dope...