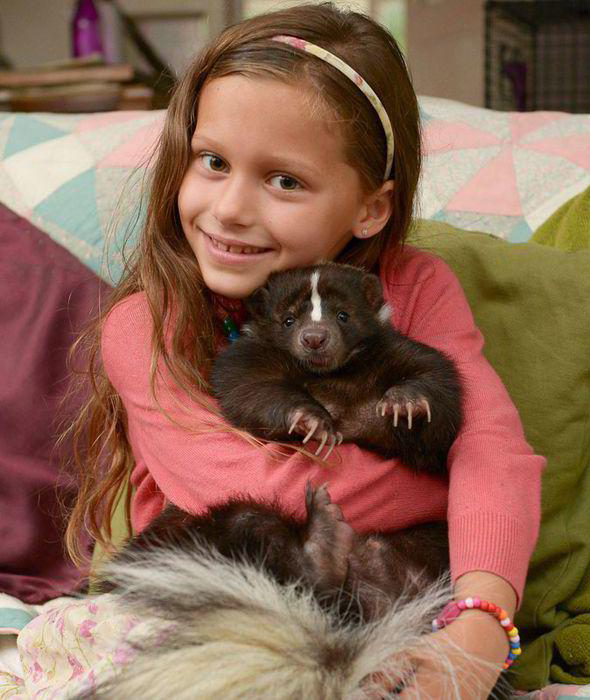 Skunks are mammals. They are most known for their ability to emit a deterring spray from two walnut sized glands, a spray so strong it can even scare away bears! They are mostly found in the Americas. There are several different varieties with different geographic locations and coat patterns. They have excellent hearing and smell, but have poor eyesight and live about 7-10 years in captivity. They are opportunistic hunters and their diet varies from:plants, fruit, insects, small mammals to other foods they can find. In the home, they should be given plenty of fresh fruit, veggies, and animal product protein. However, because they are new pets, there are still many debates on what ratio is best.


It isn't widely known at what point in history they were domesticated, but it seems as if Native Americans may have tamed them for vermin control. Later, surplus skunks from fur farms were rescued, bred, and it may have taken off again from there. The skunk community is small, and a qualified vet is hard to find for skunks. As pets, they require demormer, vaccines, and most owners have the scent glands removed, though this is prohibited in the UK. Did you know skunks try really hard to scare away predators before spraying because they only have enough for 5 or 6 sprays. Most animals won't attack skunks and the skunks coat is a big NO sign, warning predators to stay away. However, owls are known to eat them regularly and dogs attack because they are unfamiliar with them.


They are known to be easy to house train, are very curious, and if socialized properly, are happy members of the family.


"What a weird looking puppy.."

And for fun, some cuteness!

Mayyyyyybe.. never thought of it before
Select a gender to cast your vote:
Updates:
---
Most Helpful Guy
Most Helpful Girl