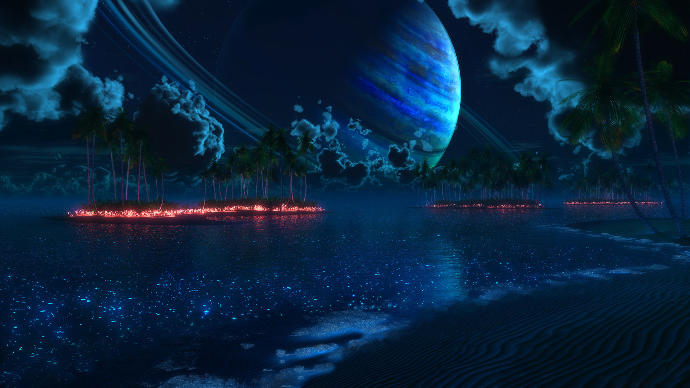 Yes - We may not have found them yet, but they're out there

No - Aliens are just part of science fiction

I'm not sure

other
Select age and gender to cast your vote:
---
Most Helpful Girl
I think there's other life out there but not in the traditonal sense that we think of when we think aliens. I believe there's angels and demons out there and even other types of spiritual "animals" that we have yet to experience. When we die we have an eternity to explore the universe, the heavens, the world. God's mysteries are too much for us to understand in our physical mind. But when we pass we can see the different planets, the galaxies, and see the spiritual life that we're blinded by. As we speak right now there's angels and demons all around us, but we can't see them because we are in the physical world. But when God comes and if we're right with him all the knowledge to be at our feet. We have an eternity to understand our purpose and learn all the secrets in all of existence. I also believe when the antichrist comes into power and God comes back for his people he's going to use "aliens" as a cover for the rapture. He'll know it was God who came for his people, but those who don't believe and don't practice their faith are more inclined to believe in "alien" life than thing involving God.
Most Helpful Guy
It's a mathematical near-certainty. It would be extremely unlikely for such a vast universe that has existed for such an incredibly long time to have only brought into existence life on one single planet.

The Fermi paradox is currently found to be without a solution by most scientists. Enrico Fermi, an Italian physicist, stated that although the probability for other (intelligent) life forms to exist in the universe is very high and although interstellar travel may be a possibility for these life forms (considering they might be millions of years ahead of us), we have not yet been contacted by any extraterrestrials. This only leaves a couple of possible explanations:
a) Intelligent life forms do exist but they haven't yet advanced far enough to contact us or respond to our attempts to contact them.
b) Intelligent life forms do exist and they're capable of traveling far distances in the universe but they haven't noticed us yet.
c) Intelligent life forms do exist, they're capable of traveling far distances and they also know we exist but for some unknown reason, they refuse to get into contact with us.
d) Intelligent life forms do exist but the places where they exist within the universe are simply too far apart for these different life forms to ever come into contact.
e) Other intelligent life forms may possess the technology to come to us but it's simply too expensive for them to actually do that.
f) Everyone is listening, nobody is transmitting
g) For reasons yet unknown to us, it is dangerous to communicate
h) Natural extinction events occur too often for any intelligent life form to make it far enough to contact us
i) It is typical for intelligent life forms to destroy themselves
j) Humans are too early (more intelligent life forms will come into existence but at a later stage in time)
k) Contrary to all mathematical probabilities, we are in fact alone in the universe.