Say you meet someone and you don't know if they're male or female. Say that you meet what you think is a transgender but you're not 100% sure. What would you do? Would you ask them what gender they are and risk offending them, or would you assume their gender? If you assume, would you apologize if you get it wrong? Or would you simply try to avoid using gender pronouns?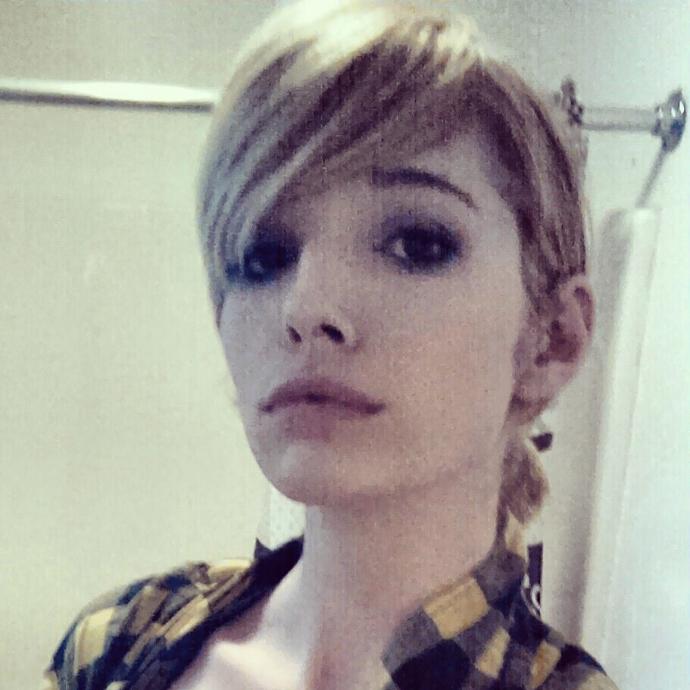 (Picture of a real transgender)


I would ask them their gender and risk offending them

15%(9)21%(20)

Vote

29%(11)

I would assume, but apologize if I'm wrong

19%(11)20%(19)

Vote

21%(8)

I would assume, but NOT apologize if I'm wrong

12%(7)9%(9)

Vote

5%(2)

I would try not to use gender pronouns

54%(32)50%(49)

Vote

45%(17)
Select a gender to cast your vote:
Updates:
---
Most Helpful Girl
Dude... Lol smh. If you interact with a MTF transgender for more than about 20 seconds, it's *IMPOSSIBLE* not to tell that you're facing someone who was born as a man.

Sure, you can occasionally find single still photos that can fool even the best observers -- but, those are *single pictures*. Photoshop is a thing... and, even in un-shopped pictures, natural variations in lighting and angles can do weird tricks.
There are plenty of pictures of ME, for instance in which MY jaw looks like it could be used to cut diamonds -- even though I don't have a very sharp jawline in reality. Same could be said for other potentially "masculine" features. I'm sure there are hundreds of photos in which I might potentially "look trans" to someone who's slanted in that direction.
Sooooo... If you're looking at individual pictures? Yeah.

If you're INTERACTING with a MTF trans in person, though? Ahhahhahaha... No.

There are HUNDREDS of *behavioral* things that are different, between men and women.
Everything from the sequence in which they move their hands vs. wrists when they gesture, to the way they literally put one foot/leg in front of the other, to the way their shoulders rotate when they turn to look at things, to the subtle intonations in their voices.
The ways in which men and women sit, stand, sit down, and stand up are all different. Etc.

Also... There are HUNDREDS of PHYSIOLOGICAL differences caused by testosterone, too -- and those can't be undone once they happen.

Most notably, men's hands are MUCH wider (compared to length) than women's hands. This ratio will *never* be changed, even by all the estrogen treatment in the world.
As just another example, men's arms don't naturally hyperextend at the elbow when straightened, the way women's do:
1.bp.blogspot.com/.../Womens-Weightlifting-05.jpg

Nor do they have the same angle when they're straightened:
images.slideplayer.com/.../slide_7.jpg

(For women vs. men of slight build -- in other words, those in which the hand ratios are LESS noticeable -- these differences will be even MORE noticeable.)

Etc etc. If you see a MTF trans person *MOVE* (and talk and gesture), I'm sorry, but it is just so
Most Helpful Guy
This whole direction is a fucking mess. I don't mean people being trans or even non binary, which I couldn't care less about, I mean the pronoun shit.

The problem is, the question isn't whether they have a penis or not, the question is, what do they imagine they are presenting themselves as? It doesn't matter if they have a penis or a vagina, and it doesn't matter if I can -tell- if they have a penis or a vagina, the problem is I have to guess whether they want me to think they're male or female. I mean the case you give, maybe it's a tgirl not a cis girl, but pretty clearly she (i'm going for it saying she) wants to present as female.

The problem is if I see, lets say, what i'm pretty sure is a biological female, with a boyish haircut, unisex clothes, no makeup. I -know- we're looking at someone with XX and a lack of testosterone and no penis. At least no clearly enough. What I do NOT know is if it's a transman who isn't passing very well but would like to be called 'he', or a masculine woman who would be offended being called 'he'.

And we haven't even gotten to the people who want to be called new unique pronouns.

People who want new, unique pronouns don't seem to understand what pronouns are for. You already have a unique fucking identifier. Your name. The whole point of pronouns is to use a fast generic replacement.

I think we may be heading to a point where he/she/his/her/him/her just drop out of use, and we just use they/their/them for singular and plural third party pronouns, and that's the end of it. Which isn't such a big deal.