How easy are you to make laugh, on a scale of 1 to 10?
10 being easy to make you laugh.
1 being very hard.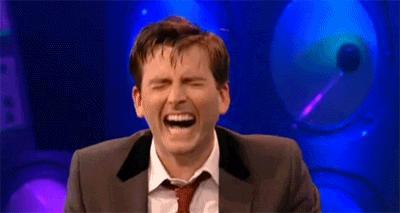 Updates:
---
Probably a 6. I laugh most days, but I don't laugh at EVERYTHING or laugh overly-easily. Perhaps just slightly more than average, so, 6.

1. I might give you a pity laugh, but I can stoneface anyone at anytime. It kinda makes them feel uncomfortable so I throw them a little life-raft now and again to make them feel good. Aren't I just the best?

5 I think.

Michael McIntyre can make me laugh, but I just don't find David Brent funny at all.

I laugh a lot at work and with "some" coworkers, sometimes we cry cause we laugh so much. I dont know about u

Really depends who, I have unique and quite dark humour 😂 If you know how to make me laugh it'll work everytime, haha

0 , absolutely fuckibg zero if i am angry
Infinite, when i m happy.

About a 9.5

Unless you're a cunt. Then it's a 2

8, half th3 time I think of something and my face will turn red from laughing so much

I can laugh real easy so I would rate it a 10.

It depends on the day. To Really laugh from the heart, like lose my breath laugh I would say 8 out 10 in difficuly.
Homer Simpsonit has succeeded, Eric Cartman and of course Coach John Mcguirk.

5 if I am laughing sometimes I can be from nothing to laughing uncomfortably.

-10/10 you can't make me laugh physically impossible unless you got some dark jokes

10 easy, I fail all the try not to laughs

About 50. I can laugh about ANYTHING.

Simples...

Probably close to a 3. Maybe 4

8 depending on the type of comedy.

10 seeing how easy I make myself laugh on a regular basis

About a 9 as I find a lot funny...

If I knoe you and we are friends 9, if you are stranger or person I just met: 2
I have my 10 days, and I have my -1 days.
Generally, I'm pretty easy-going and it's not difficult to extract a chuckle from me, but a 10/10 help-I-can't-breathe kind of laugh? Those require a good dose of coincidence more than anything. It's the unintentional, unplanned stuff that's the funniest.

I am soooo silly, on a good day I just need to tickle myself.

5 normally, not keeping in mind fake laughter.
8 with people around my age.
10 with good friends!

at my life well that's pretty easy.

Probably about a 7 or 8. It's not too hard to make me laugh.

10. I laugh at everything

5 I know how to be serious but know when not to be.

A genuine stomach hurting laugh probably a 1 or 2.

Eh I don't know that's a hard one lol I laugh a lot but I have a weird sense of humor

If I'm in a good mood 9/10 if not 4/10

Probably around 8. I laugh all the time.

Depends, I think it's usually 1-2, but if I'm in a good mood or the humor is right it could skip to 10 in an instant.

6. I am amused easily but laughing is a little harder

A 7 or an 8. Not much makes me laugh. I'm more likely to laugh in a group setting, or if something is absolutely hilarious.

I have dark and sarcastic humor. So i would say a 2.

10 lol I laugh very easily at the stupidest things

I would say it's a 2 for me
Click "Show More" for your mentions
Select as Most Helpful Opinion?
You cannot undo this action. The opinion owner is going to be notified and earn 7 XPER points.