How would you react if someone flipped you off and told you to 'sit and spin'?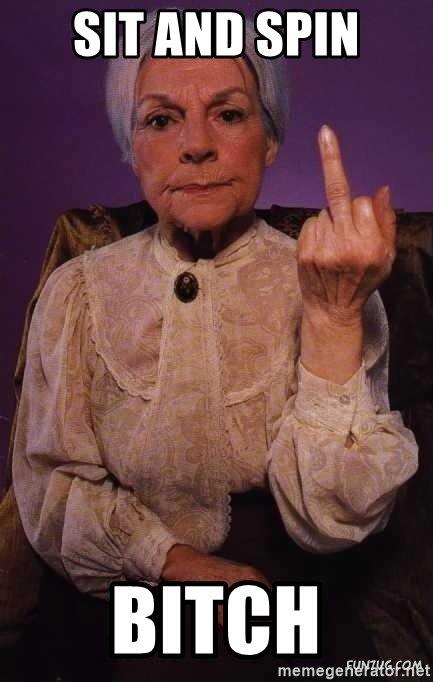 Updates:
---
I would laugh even if it was in an aggressive manner. That type of thing should be reacted to as bored or ignored unless you know the person long time. Even so laughing could make it more aggressive. It's something to just not let go to your head and move on.
As for what it means is kinda like "have fun with my finger up your ass" it's an insult.

Lol LMAO 😂 although if if was from a friend I would question it. Sometimes friends are there to keep us in line.

Never heard of that one.. so probably confused.

I would ignore them most likely.

make sure they get attitude adjustment lessons
I'd have no reaction as I don't know what that means. I have an idea of what it is but I wouldn't indulge the fucktard with a response.

I'd have a coke with that smile.

No thank you, not my cup of tea. But don't worry I don't judge another persons fetish's.

People losing their shit like this is hilarious. I would love to see someone one day walk up and suck on that finger when they flip the bird while losing their mid.

I'd snicker. Really, it's semantically null; it contributes nothing to any discussion. It's the equivalent of sticking out your tongue and saying "nyah!"

It depends, if it's a friend or whatever then I'd do something similar back, if it's a random person/someone I've got a problem with then it would be like a red rag to a bull

Ignore them as they are obviously mentally ill.

I'm not a violent person by nature and would most likely walk away, but if they would like keep all their fingers on both hands, they should keep their pockets and not do it at all.

It's 2018, you don't know how people would react to that now.

I would just move on and let them be.

Laugh and say that stubby little thing couldn't even reach my prostate.

well i would say "Fuck off"

I'd be offended and probably cry

I would call their bluff and try to get them to go somewhere private with me.

id just say ok and i will put my pants down so my dick is showing.. im sure it will render them speechless and utterly embaressed 😂😆

I would ignore the comment. But I would say as there flipping me off "That's right I'm#1

Heyyyy your mom did that last night nonstop😂😂😂😂
Click "Show More" for your mentions
Select as Most Helpful Opinion?
You cannot undo this action. The opinion owner is going to be notified and earn 7 XPER points.