Every Muslim woman I've ever asked has said she wears the Hijab by choice.
And that she's not doing it for her Father, her Husband or brother but for God.

Isn't it hypocritical if you think it's oppression while you see nuns as devout?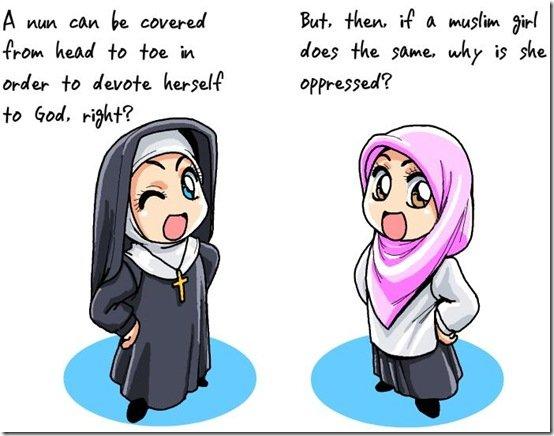 Updates:
---
Most Helpful Girl
The comparison with nuns is nonsense. Becoming a nun is not about an article of clothing; it's a decision to cloister oneself, in chastity, for one's entire earthly life.

Also, just as obviously, ADULT women become nuns. Women do not start wearing the hijab as adults.

Consider:
Amish society is pretty fucked up. Not only does it reject modernity, technology and so forth, but it's also full of incest and abuse.
Amish kids also have a period of 'freedom' called "Rumspringa", around age 14-16, during which they can freely leave. THEY CAN LEAVE. MOST DON'T. Most of them return to a society in which abuse, poverty and incest are endemic.
Because they know nothing else.
They THINK they are making a "decision" to stay.
But are they?
Are they REALLY making a decision?
Or did they just grow up brainwashed?

--

See, the Amish example is clear-cut. The Amish 16-year-olds "choosing" to stay, after Rumspringa, are obviously NOT really making an informed decision. They have no real choice; they have no real ability to function in the outside world. If they leave, they have nowhere to go.

The nun example is just as clear-cut, the other way.
Nuns grew up in modernity. The average nun is well into adulthood when she chooses to become a nun. Clearly, a fully informed decision.

The problem is that the hijab example is exactly halfway in between, so it's NOT clear cut.
Usually, Muslim girls start wearing the hijab around puberty. It's not adulthood, but it's also not super-young childhood. Do they understand what is happening? It's very, very hard to say.
When they "choose" to wear the hijab, how much of that choice is theirs and truly theirs? How much of it is just what they were told? How much of it is just the fear of being exiled from the community?

And of course it's not the same from woman to woman.

And the hijab doesn't mean the same thing from woman to woman, either.

It's complicated.

But it is definitely stupid to try to compare the hijab to a nun's habit.
Most Helpful Guy