What's the best thing about your country?
Where are you from and what's the best thing about your country from your point of view?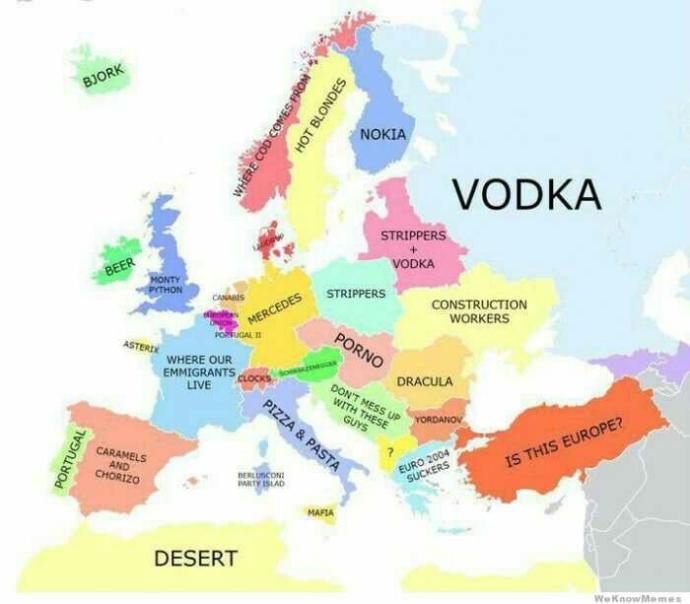 Updates:
---
Australia. Our weather, beautiful diverse natural sites and amazing cities. (Melbourne is better than Sydney).

Usa, and I'm a Texan before I am an American so I am going to answer for texas, so I guess the people, the beauty, the weather, and the music

Hot blondes, friendly people but cold at first, lots of green woods, eco-friendly, cares about nature, cold clean water, meatballs.

I'm from America, and I like the patriotism and pride that everyone, no matter what side they're on politically, displays around Independence day. It's nice to have the States really unite every once in a while. (I also like our macaroni and cheese, but that's not important)

Best beer, chocolate, fries, waffles, dutch gin and amazing pear syrups.
I hate that this map groups England, Ireland and Wales together under "Monty Python". Id say the best thing about Scotland is the comedy (Billy Connelly, Frankie Boyle, Danny Bhoy, Kevin Bridges) and how scenic parts of the country can be.

From Canada, best thing is all the beaver up here...

Or legal marijuana, free healthcare, generally friendly and polite people, functional stance on gun control, Santa Claus apparently lives here, inclusive to people from all ethnicities (or at least we try) and finally when I get embarrassed by my country's leader it's for insignificant stuff like saying people kind, not calling half the world a shit hole and trying to start a war with North Korea

Excellent chocolate, good beer and close to interesting countries and cities. I'm in Paris by train in 1 hr 20.

Too few to mention, but Monty Python may well be it.

Switzerland and cheese 🤗🤗🤗

Robert Rosenberg says it all..

Sweden: We have ehm... yeah nothing really except history.

I like how mine just says the name. Really? Nothing good about us?

Germany: nice country with qualitative industry and the Most powerfüllte fire departement

I live in Wales and the best thing is Lamb

I honestly can't think of much good these days so yeah I'll just go with Monty Python

Finland education level aand nokia sure

I am from India, the biggest thing about India is our culture

I used to love my country (UAE), but as of lately it's slowly but surely becoming a melting pot for Asian immigrants... disgusting. They need to kick out the Pakistanis, Indians, and Filipinos etc and maybe then i'd reconsider my opinion in regards to the country.
Click "Show More" for your mentions
Select as Most Helpful Opinion?
You cannot undo this action. The opinion owner is going to be notified and earn 7 XPER points.