Visitors make silent visits to organic memorial featuring a mural of George Floyd, near the spot where he died while in police custody, Sunday May 31, 2020, in Minneapolis, Minn.
Thousands of people have gathered across central London to protest against the killing of George Floyd's by the Police in the US.
A 22-year-old black man protesting police brutality in Omaha, Nebraska was fatally shot outside a bar Saturday night.
James Scurlock died after being shot around 11 p. m. in the Old Market neighborhood of Omaha. He was transported to the Nebraska Medical Center where he was pronounced dead.
Omaha Police said they have taken into custody an individual connected to the shooting, but refused to provide further details. Several outlets have identified the shooter as the owner of a couple of local bars.Riots and looting in Birmingham Alabama in George Floyd Protest.
Police make arson arrest in courthouse fire
Nashville police arrested a 25-year-old man on felony arson and vandalism charges in connection with the fire set Saturday night in the Metro Nashville courthouse.
Detectives from the specialized investigations division and SWAT officers took Wesley Somers into custody on Sunday night, according to a Twitter post from the Metro Nashville Police Department. The arrest was made at a home on Manzano Road in the city's Madison neighborhood, police said.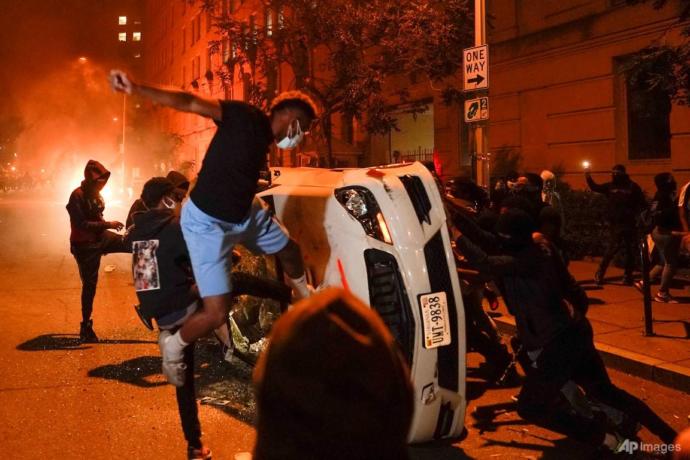 A man was shot dead in the Louisville protests after
police officers
and the
Kentucky National Guard
"returned fire" while clearing a large crowd during a protest early Monday.
Updates: