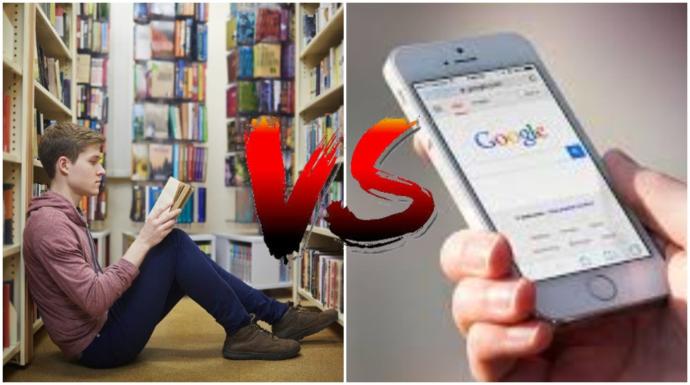 My step dad and I always debate about this. He's one of those people who think the "Old fashioned Way" is better. He has a cast iron cookware set (he rarely uses them and they've rusted), he uses a "swabbing the poop deck" mob (always complains how mopping is hard), and thinks people are lazy by googling answers instead of getting it from a book. While I believe we should take full advantage of the technology we have today.
When we debate about this he only has one argument which he just recycles in a different way thinking it's a different argument. People are getting too lazy, people are getting too lazy, People are getting too lazy, People are getting too lazy, People are getting too lazy, People are getting too lazy. So he doesn't have a real argument, but here are mine:
1. New technology is designed to make life simpler and easier and make completing tasks a lot faster. Most things done back then required a lot of work and time. Like the whole book vs google thing. Is it better to go to the library, look through the card catalog, look for the book if it's there, then read the entire book and hope you find what you're looking for, or you could take 10 seconds and Google it.
2. If the "Old Fashioned Way" is better then we wouldn't have the new to make new technology.
3. It's the way we evolved as a species. First we had rocks, then spears, then bows and arrows, then crossbows, then muskets, then cannons, then semi auto guns, then machine guns, and now we have missiles. One invention lead to the next in some way, shape or form.
I mean look what we have today, we literally have all knowledge known to man right in the palm of our hand
We should be using this to invent the next step. Something that schools spend a year to teach you now can be learned within a month or even a week if you dedicate enough time. Most of the things I know I learned from watching YouTube videos.
Select age and gender to cast your vote:
Updates: