An explosion occurred this morning during rush hour , on a Tube at Parsons Green station in London, U. K
Witnesses said victims suffered facial injuries after a white cannister exploded. Emergency services are at the scene , as well as heavily armed police.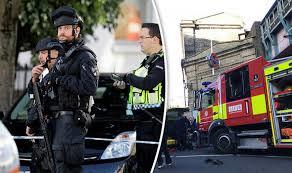 The picture above shows a burning plastic container in a Lidl bag with wires coming out of it. The white bucket, which appeared to be stuffed with dark clothing or some other form of material, was pictured on fire close to a seat in the standing aisle.
Many speculate it's a terrorist attack , but the U. K government hasn't confirmed this. Some say it's wrong to speculate that it's a terrorist attack , others say it's natural to speculate considering the way the world is now , but what's your view?
Updates: