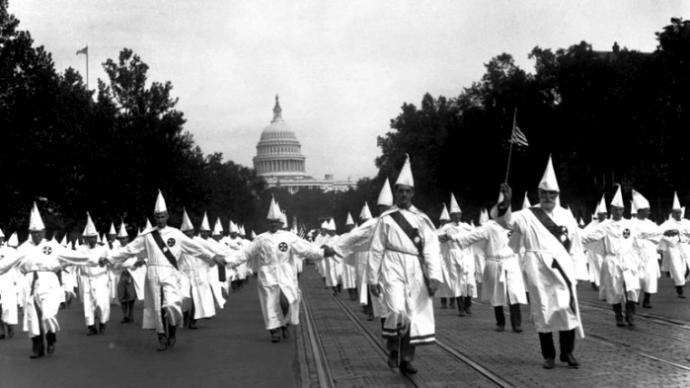 This Sunday, Aug 12 2017 . White Supremacists are preparing to rally in Washington DC
and in Charlottesville Virginia. Specifically on the 1 year anniversary of Aug 12 2017
when Heather Heyer 32 was killed. and 35 more injured. by James Alex Fields
who plowed his car into a crowd of protestors in Charlottesville. James Fields
probably a stand up true American who believes in Donald Trump. is also known for
his fascination and sympathy towards Nazism. the idolization of Hitler.
and beliefs in White Supremacy.
What a beautiful patriotic way for the KKK to celebrate the anniversary death
of a female and freedom to hate in America. Isn't it.
Also planning to attend the White-Supremacist rally are counter protestors.
also appearing is former Ku Klux Klan grand wizard David Duke. and several
neo-Nazis and Holocaust deniers. The reason for their attendance says on their
permit they are 'protesting civil rights abuse in Charlottesville.'
and they call Liberals Millenials and Z's snowflakes.
This is nothing new. the Klan has marched on Washington before. but then so has MLK.
And new rallies by WS and the Klan are being planned all over the country.
Donald Trump's language is weirdly similar to the hyper-nationalistic and anti-immigrant
Ku Klux Klan of the 1920's and the present day. "President Trump's oft-repeated slogan
"America First" was also a credo of the white supremacist Ku Klux Klan organization."
https://www.snopes.com/fact-check/america-first-ku-klux-klan-slogan/


So much for Donald's base. I'm sure every American wants America To Be Great.
But Donald's slogan is... .. . Make America Great Again. So what is meant by
Making America Great Again? The code word is.
*Again*
. What do you think
*AGAIN*
means? When is
AGAIN
? . White Supremacists on Gag would know.
Peek-a-boo. We see you.
Updates: