A British father whose entire family were killed in the suspected terror attack in Sri Lanka has paid tribute to his "talented and thoughtful" children and his "brilliant, loving" wife.
Ben Nicholson said his wife Anita, 42, son Alex, 14, and daughter Annabel, 11, had been killed as they sat at a table for breakfast in the Shangri-la Hotel in Colombo on Easter Sunday.
"Mercifully, all three of them died instantly and with no pain or suffering," Mr Nicholson said.
They were on the second floor of the luxury hotel when two suicide bombers walked in and blew themselves up as part of eight co-ordinated attacks which killed 310 people.
Hospital staff have described the harrowing moments after the bomb blast in which Mr Nicholson wandered the streets and hospitals desperately trying to find his loved ones in the aftermath of the blasts.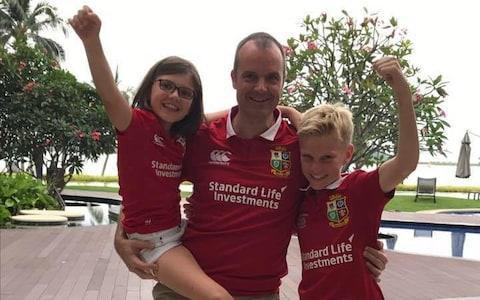 "I saw him covered in blood like this, walking up and down just there," Pushpa Zoysa, who is in charge of the emergency triage at the National Hospital in Colombo. "He just kept asking about his family members."
The Nicholson family were based in Singapore and in the country for a family holiday at the time of the attack.
Mr Nicholson is a partner at Kennedys Legal Solutions while his wife was a former legal adviser to the UK Treasury. According to her LinkedIn profile, she was currently managing counsel at the mining and metals company Anglo American.
Mr Nicholson also thanked the medical teams at General Hospital, Colombo "for treating Anita, Alex and Annabel with great dignity and me with kindness and sympathy" as well as "the Sri Lankan people I have encountered in Colombo following this catastrophe".
"Anita, Alex and Annabel leave behind a large extended family and many close and cherished friends who are now grieving this tragic loss," he said. "We shall all miss them dearly. We are all grateful for the many expressions of support and good wishes."
Updates: