What's the meaning of your name?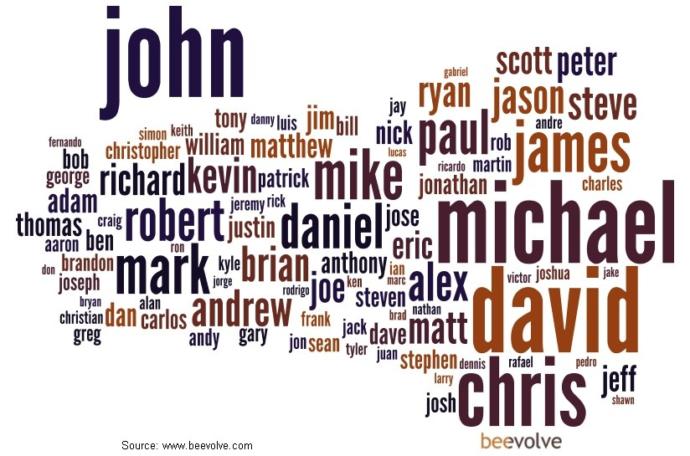 Mine means praised or thanked.
Updates:
---
Teresa- to harvest
I go by Teri and didn't look that up lol

English the meaning of the name Kayla is: Variants of Kay: keeper of the keys; pure.

Melisa means bee in greek.

The name of Jack gives you a very individual, reserved, serious nature.
You stick stubbornly to your ideas or decisions, in spite of any appeals or advice; you are not willing to accept a compromise.
You prefer to be alone with your own thoughts, rather than in the company of others.
This name restricts spontaneity in association and the fluency of your verbal expression.
When you are required to express yourself in personal matters requiring finesse and diplomacy, you feel awkward and embarrassed.
Although you realize perfectly well what is expected of you, you are unable to find the right words, and hence you end up saying something inappropriate in a candid way.
You can express your deeper thoughts and feelings best through writing.
Your friendships and personal associations are rather restricted, being limited to those of a similar nature who can understand and accept your rather straightforward yet reserved manner.
You are steadfast and loyal, and do not allow gossip or anything belittling to be said against those whom you accept in friendship.
You find satisfaction in being outdoors or in getting out into nature, or in dealing with the products of the earth.
There is originality and depth of thought contained in this name, particularly along practical and mathematical lines.

Can also mean "Lovingly Selfless" :) :) :)


Darren is a masculine given name of uncertain etymological origins. Some theories state that it originated from an Anglicisation of the Irish first name Darragh or Dáire, meaning "oak tree". According to other theories, it is a variant of Darrell, which originated from the French surname D'Airelle, meaning "of Airelle". The common spelling of Darren is found in the Welsh language, meaning "edge": Black Darren and Red Darren are found on the eastern side of the Hatterrall Ridge, west of Long Town. Darren has several spelling variations including: Daren, Darin, Daryn, Darrin and Darryn... In the United Kingdom, its popularity peaked during the 1970s but declined sharply afterwards.. The name was "first brought to public attention" in the English-speaking world in the late 1950s by American actor Darren McGavin. "It was further popularised in the 1960s by the character Darrin Stephens, from the television show Bewitched

My full name-first, middle, and last means
Noble Protector of the common man.

I'm an American, our names don't mean shit.

Mine means the new house haha

Mine means I am thoughtful and saint

One who takes care of everyone
Click "Show More" for your mentions
Select as Most Helpful Opinion?
You cannot undo this action. The opinion owner is going to be notified and earn 7 XPER points.