The most perfect looking woman to ever live, right?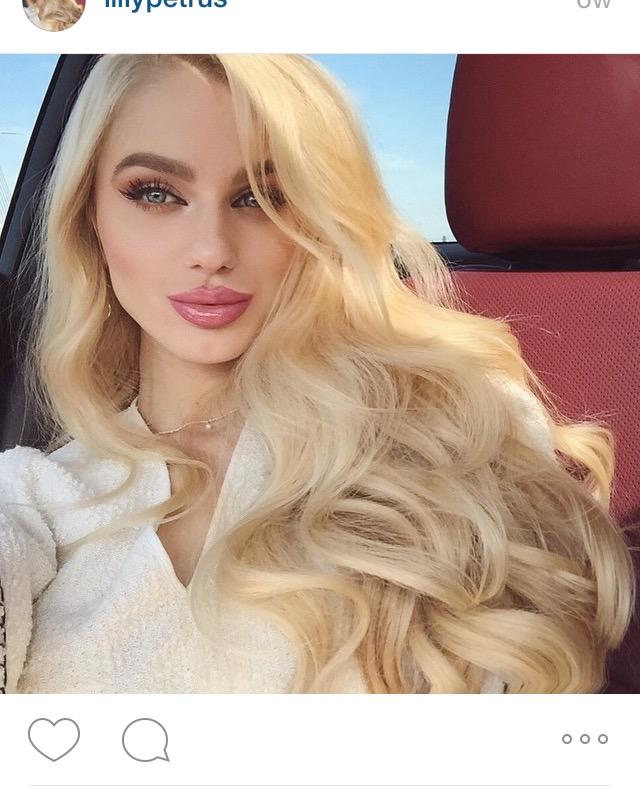 Updates:
---
Hahaahaha
You're getting a reputation of being obsessed with plastic surgeries and the disturbing doll appearance fetish.

She has TONS of make up on and her lips are fake. Any woman with a decent body can look like that if they do their make up and hair right.

If you particularly favor the blow-up sex doll look, then sure who am I to argue with that?

This is the product of make up and mild plastic surgery.

Qualms/why she is not perfect
Those fake lips are not cute. Her eyebrows aren't really perfect, I like thick but ehh.

Perks
She has gorgeous hair
And her eyes are beautiful

To you, she is. To me, no. She looks like a freaking doll that my 4 years old cousin would love to play tea party with.

She's a type. She's not perfect. What is a guy wasn't in the blondes, heavy makeup and cosmetically enhanced lips? To them she's not perfect. Sounds like she's your type and you adore her so, thanks for sharing what you like. :) If we all posted our version of perfect we would see so many people pictured. :)

What? Not even close to. She looks fake af.

she's pretty but she has very heavy makeup on so i wouldn't say she's the most beautiful, plus her lips have wayyyyy too much botox.
i think the most beautiful would be someone who looks equally stunning with and without make up.

Not a chance. Her lips look fit to burst all over her painted face, massive eyebrows and dyed blonde hair.

Poor girl, what has she done to herself? :'( :'( :'(

Lmfaoooo hell no. She looks like a barbie doll. In the creepy way and not in the pretty way. She looks hella unnatural.

too much make up
i do nor agree with you

I don't believe there is a most beautiful woman in the world, what is gorgeous to one, is unattractive to another. How boring wouldn't it be, if only one woman was the most beautiful?

She doesn't look real. She looks like she's had surgery.

Overdrawn lips and eyebrows, contouring, fake lashes. You must be joking, right?

She is pretty but her make up looks so clowny. The lipstick is over her lips and her eyebrows are way too big.

No I can tell that she got lip injections and too much makeup, that's just my opinion though.

Is that a doll? she looks like one. Perfect? NO.. fake I believe

She looks fake af and her lips are way too big and she obviously got plastic surgery

She's fake. She's had some cosmetic surgery. Now imagine how she looks without makeup.

WOW she's absolutely immaculate. I'm sure my little cousins would love to play tea party with her and brush her hair and dress her up, otherwise, ew.

How does she look like with no makeup?
Her appearance looks artificicial.

Her face looks like it's been through several surgical operations. The lips, nose and cheeks looks altered. There is way to much makeup on her face. Her eye brows are clearly drawn or altered. Her hair looks like it's been treated expensively.

Makeup is used to just touch up and make the face finished and complete, not change and rearrange the appearance of the whole facial structure, it looks like she either used a brush... Or she just dipped her face in.

If makeup is excessively used like the women above, it may come across as unattractive. Everyone has different tastes and if you think that that women is the most beautiful, then whatever floats your boat.

It's like someone left Barbie in the microwave.

She has got to be one of the ugliest things I've ever seen.

No way, this looks so cheap !

Ummm not.. everyone has a preference

Um no quite the opposite. She looks fake as f*ck. Her lips are massive, tonnes of makeup, bushy man brows, fake eyelashes, probable eye contacts, square man jaw and chin, bulbous nose tip, skeletal face, fake blonde hair and she looks like she's underweight too.

What have you been smoking mate?

I don't really have a thing for dolls so no.

I prefer the latina look. Like mexican girls with long brown hair tanned skin and preferably blue eyes.

No. Doesn't even look real with all that makeup and other edits.

Too perfect for me - I prefer more natural look

Far from perfect, in my opinion.
Her hair is nice, it would certainly stand out better if there wasn't so much makeup.
Her eyes too are quite nice, but again, their effect is detracted from her facial features (which isn't a bad thing at all).

She may be perfect for some, but personally, all the extras she's placed upon herself just seem a bit much.

no not really. her face is scary. whats up with those gigantic lips?

I bet her native language is binary
She looks horrible

No wayyyyy, give me Cheryl Cole

You need to apply for a guide dog bro.

That's like saying a plastic cup is gorgeous. Way too fake for me.

She's hot, but she's not my definition of perfect.

Not in my opinion. She's not ugly, but not very natural...

Pretty? Sure. But I have different tastes.

I don't think she's attractive

She's hot, but not perfect.

Nah this chick im talking to looks better
Click "Show More" for your mentions
Select as Most Helpful Opinion?
You cannot undo this action. The opinion owner is going to be notified and earn 7 XPER points.