It's the day after the Academy Awards, and everyone is buzzing about the Oscars - Hugo and The Artist are the big winners, Ryan Seacrest ambushed on the red carpet, host veteran Billy Crystal's performance, and of course..... Oscar fashion.
I love to discuss my favorites (and least favorites) after every awards show, and so....
....drum roll please.......
here are my picks for the
Oscars Best and Worst Dressed 2012!
Best Dressed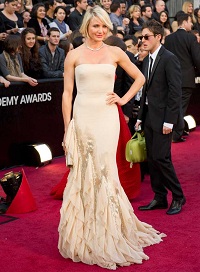 1.
Cameron Diaz
Cameron Diaz looked stunning in this pinkish champagne (is that the official color? lol) Gucci gown. It flowed beautifully, fit her figure perfectly, and had those gorgeous cascading chiffon ruffles that floated about the stage when she presented. She wore very little jewerly, and best of all - wore her hair naturally. No up-do, no hairspray, nothing to distract us from the beauty of the dress!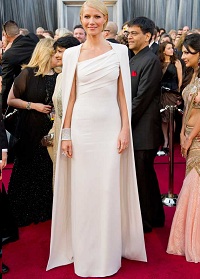 2.
Gwyneth Paltrow
Gwyneth wore white, which was a hot color on the red carpet last night. This Tom Ford gown had a beautiful cape, which was both fashion-forward AND practical, given that it was a bit chilly last night in Hollywood! This looks sleek and sophisticated, and Gwyneth's styling - simple hair and very few accessories.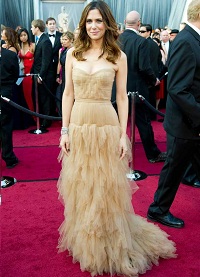 3.
Kristen Wiig
While many listed Kristen as one of their least faves, I think that she looks fresh and feminine. The nude color not only stood out on the red carpet, it also looked great with her complexion. I admit - I'm a sucker for chiffon. And once again, Kristen leaves the accessories at home - I love a naked neck with a sweetheart neckline!
Worst Dressed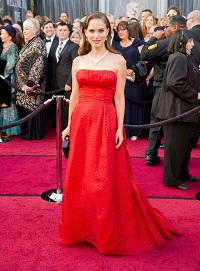 1.
Natalie Portman
I'm not sure what possessed Natalie to choose this dress, but it felt a little underdressed, underwhelming, and under-achieving. The polka dots gave it a casual air that is not appropriate for the Oscars (especially for a former Oscar winner), and had it been knee-length or tea-length, it could have been a Betsey Johnson dress that a teenager would wear to her Sweet 16.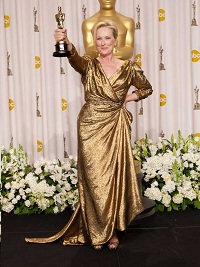 2.
Meryl Streep
As much as I love her performances, I do NOT love this dress selection. The gold is a wonderful color choice for Ms. Streep, but it's ill-fitting, frumpy, and a little too.....matronly. I know she's a well-respected actress in her 60's, but that doesn't mean she needs to avoid showing her assets. I felt this looked cheap and misshapen.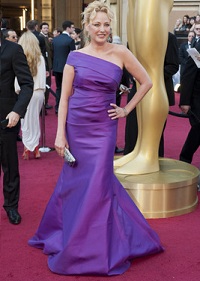 3.
Virginia Madsen
Purple is my absolute favorite color, and yet, it does nothing for me here. Virginia Madsen chose a silhouette that was a bit dated and unflattering - it almost looks as though she borrowed a niece's prom dress. Boring! She has a beautiful curvy figure that could have easily looked elegant. What happened here, Virginia?
And there you have it, folks! My picks for 2012. Overall, I was happy to see the ladies were classy and somewhat covered-up. Too much cleavage and skin is contrived and dull, but we're starting to see the starlets veer away from skin, and opt for class.
Please comment below, and feel free to list your favorites and least favorites as well.
---