As I love fashion, and love bringing you my "Best and Worst Dressed, it is my civic duty to present to you.....
the Emmy's Best And Worst Dressed 2012!
Best Dressed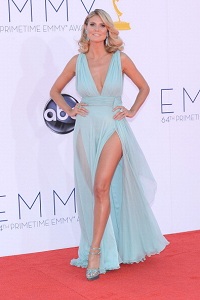 1.
Heidi Klum in Parisian designer Alexandre Vauthier
Heidi Klum looks stunning in this gown - the color, draping, the slits - this all works very well with her skin tone and body. She looks retro without being costume-ish, and the hair is a nice complement.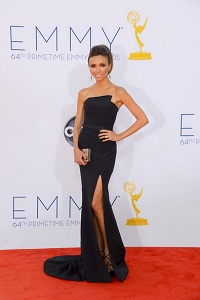 2.
Giuliana Rancic in Romona Keveza
Giuliana looks sophisticated, glamorous, and yet a little edgy. The blacks looks perfect on her, without being dark or gloomy. I also like the little belt at the waistline - it's a small addition that is not easy to see, but is a nice detail that adds youth to the gown.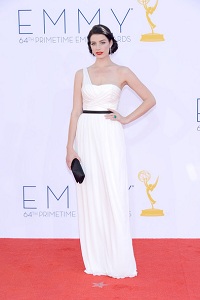 3.
Jessica Pare in Jason Wu
I love white, even in the fall, and Jessica pulls this off beautifully. This elegant gown works wonderfully with her skin tone, along with a perfect balance of vintage and modern.
Worst Dressed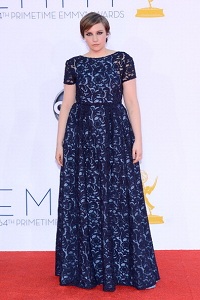 1.
Lena Dunham in Black and Blue
Lena Dunham wore a beautiful dress, but it just wasn't made for her. It's not a suitable silhouette for her figure, and she even looks unhappy about wearing it! The sleeves make her shoulders look broad, and the gathers make her hips larger than they are. Just not a good match.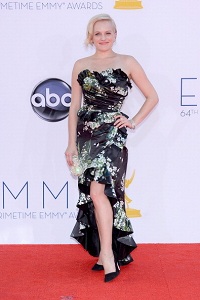 2.
Elisabeth Moss in Dolce & Gabbana
I like the idea of wearing a print to the Emmy's but it wasn't executed well in Elizabeth Moss' dress. The print combined with the ruffles, the pleats, and the hi-low hem just come across as kind of .....flamenco. I'm glad she decided to nix the jewelry - I believe that may have been the smartest move she made all evening, style-wise.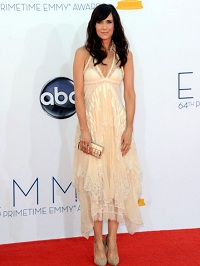 3.
Kristen Wiig in a summer dress
You all know I love Kristen Wiig - I even included her in my
Oscars Best And Worst Dressed 2012
, wearing a beautiful nude gown that rocked the red carpet. But this? This felt a bit underwhelming and casual for a nominee. And I'm never crazy about a handkerchief hem.
---