Masculine guys that wear makeup?
I find masculine looking guys who wear makeup so fucking hot. Is that just me?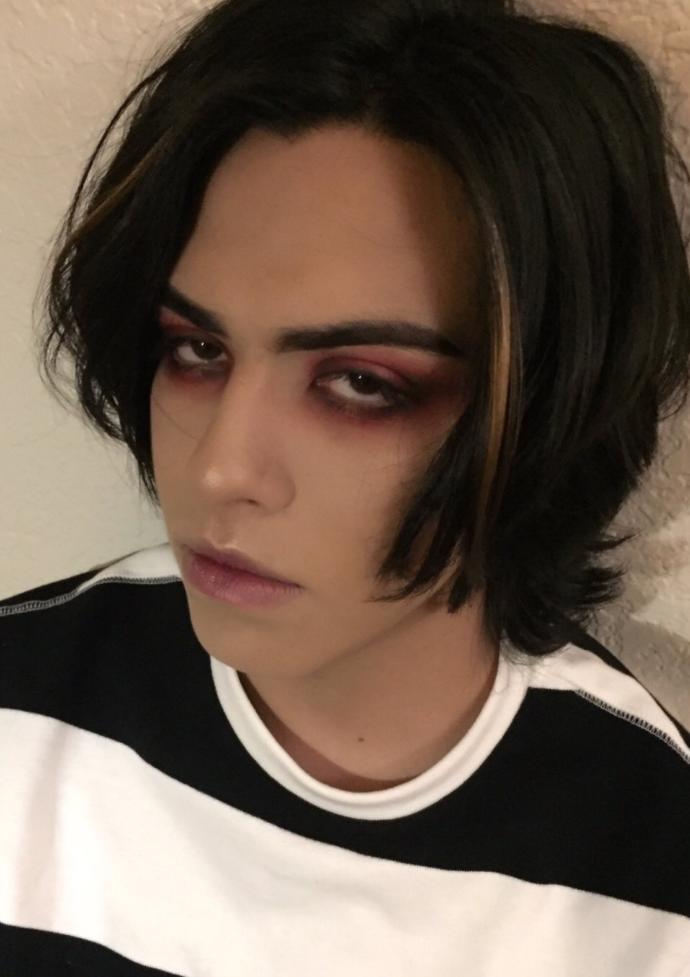 Updates:
---
Is that Shawn from Pysch? i mean, he's put on makeup before but i thought that was just for the show...
im not averse to makeup... i just don't like things touching me... period. but if others wanna... why not.
I had friends in high school who put on eyeliner..

I've often told people that there's a masculine way and a feminine way to apply makeup, and when a guy applies it in a feminine way, it sends an entirely different message than if he applies it in a masculine way.

I always wear eye makeup when I go out. When they see me in makeup, a lot of guys are uncomfortable with it, but far more girls love it than don't.

My girlfriend puts eyeliner and mascara on me occasionally. She would definitely agree with you. I have a beard as well so it's an interesting mix

The top pic is not masculine if that's what you're implying. Which isn't to say that makeup can't be masculine. Watch a movie and you'll see tons of examples.

The first guy looks more like a woman than a masculine man.
The second guy is just wearing makeup to look good in the public eye, still makes him look less masculine

I'm straight but still the first pic guy would freak the hell out of me! And I don't think the second dude is wearing any makeup!

It's just you, because those guys are actually gay.

Ultimate Warrior for the Win!

I don't see how masculinity and makeup work

I use a brown pencil just because my brows are like half missing but that's about it for me.

I'm pretty sure you're a lesbian.

You just might be...

The first guy looks more like a girl... so not masculine whatsoever...
The second one is fine... the makeup seems mostly corrective.

"Masculine guys that wear make up," That sounds a lot like an oxymoron to me.
To each their own though.

well thanks to trump he demystified makeup as a feminist issue lol .
both he and clinton disguised their ages to show energery and more youthfulness .
but with trumps fake tans and white eyesockets from wearing goggles that gave him that
orange look . that trump supporters accused left wing media of color camera tricks. Stupid .
i've gone out with guys who borrowed powder for their nose and my mascara .
its funny seeing their eyeliner run down their cheeks giving me oral . ironically trumps
image of his toxic mentality fits well with his need to wear a bronzer unmistakenly giving him
the most evil twisted sour faced looking spooky fiend leader on the planet .
that's right! trump has turned make-up into a universal but not feminist issue .
trump has turned make-up into a male weapon . a form of fake intimidation and terrorism .
for him trying to get what he wants . but it ain't working . WTF A Mr. President of Masculinity?

They're hot, I don't know why people think makeup can't be masculine

Eh I'm god on that, I prefer my guys to have the natural look especially if I dont wear any the only exception is if their in a 2000s band lol

It kinda takes away the masculinity.

Not gonna lie. First pic? I'd do him.

Yea, sorry it's just you.

2 isn't wearing makeup, but 1 doesn't look very masculine. I think eyeliner is fine. Anything else not so much
Click "Show More" for your mentions
Select as Most Helpful Opinion?
You cannot undo this action. The opinion owner is going to be notified and earn 7 XPER points.