My Review On The 1982 Movie Swamp Thing (:
Swamp Thing (1982) Is a Horror,Fantasy,Monster Movie. It has some awesome action a really interesting and cool plot and some terrific acting. This movie was released and now tons of people have watched it because of how awesomely made it is with some beautiful scenery. I also love the way Swamp Thing looks it looks incredible!
Alec Holland Turns Into Swamp Thing
When Alec Holland turns into Swamp Thing its incredible! The explosion that turns him into Swamp Thing gives him unbelievable strength and also gives him some extraordinary powers.
Swamp Thing's First Attack!
While a bunch of goons chase Linda and try and drown her, Swamp Thing surprise attacks the goons and easily take them down! He easily defeats them.
Swamp Thing Vs Monster!
The final fight inn the movie it was action packed! After Arcane took the explosion and turned into a monster Alec and Arcane start fighting! After the first time Swamp Thing took him down he got back up and started fight Swamp Thing again. But Swamp Thing took him down again in an awesome fight!
Second On Going Fight Between Swamp Thing Vs Goons!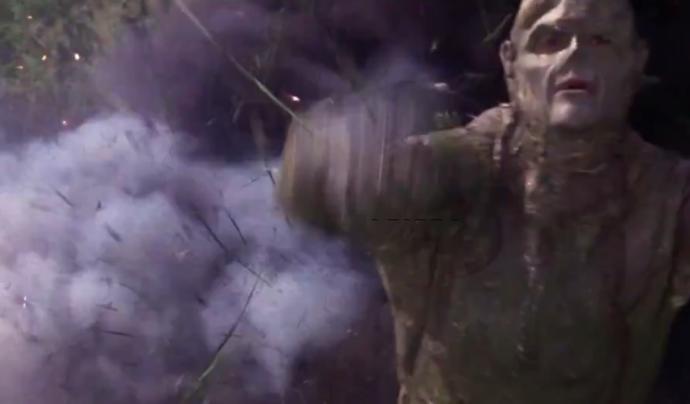 The goons shoot and use explosions on Swamp Thing but its not able to defeat him. Swamp Thing throws the goons and knocked them out! I love the explosions in the fight and how Swamp Thing barely gets affected!
Cable (Adrienne Barbeau) Is Pretty Sexy
Cable is a pretty sexy lady. While some might think she's over sexualized it did make it more interesting. The guys in the movie did notice how sexy she is. Alec Holland definitely liked her one of the reasons is because how pretty sexy she was.
Swamp Thing Got A Wide Theatrical Release In 1982
Swamp Thing did get a wide theatrical release in 1982. It did deserve it because it's an awesome movie to go see in the theaters! Hopefully they re release Swamp Thing into movie theaters because this is definitely a very awesomely entertaining movie to watch!
Not Said How Much Made At The Box Office But Somehow Got A Sequel. The Return Of Swamp Thing Was Released In 1989!
Even though Swamp Thing wasn't a box office success because not even saying how much it made at the box office and Swamp Thing was made for 2.5M and that's not a lot to make a movie even for the 1980s. The 1980s movies a lot of them were made with at least 11M so Swamp Thing is definitely a B Movie. (A low budget movie.) but somehow probably because a lot of people love Swamp Thing the sequel Return Of Swamp Thing (1989) was made.
Critics Giving This A Higher Percentage On RT Than Audiences!
Yeah Critics seem to love this movie more than Audiences since Critics gave it a 64 Percent and Audiences gave it 34 percent. It definitely surprises me how the percentage from Audiences is so low. But even so a lot of people like/love Swamp Thing and I definitely enjoyed this movie for the action and the plot!
I really enjoyed watching Swamp Thing its definitely a really awesome movie and you should definitely watch it!
---