It's hard enough for any metalhead to be accepted in society. Some people can fear us, others think we're plain stupid, etc. And when it comes to being female and a metalhead, it can sometimes come with a few extra issues. I've figured that out myself over the years. Some problems here listed can relate to both genders. (And no this is not a feminist rant)
1. Some people just think metal chicks are lesbians.
People see us like this at times because how some of us just aren't so girly. For me personally, I don't dress in many colors or wear tons of makeup. I typically dress more like a thrash metal person, and just wear some eyeliner and black nails.
I hate the color pink. Grays, black, and denim I feel most comfortable in. That doesn't mean that chicks can't be girly, its just not for me. I'd rather go and play guitar than be at the phone for 5 hours talking about tons of boys in pop groups. If I were on the phone that long, I'm sure it would be about other stuff.
2. People think we're satanic or atheist.
Due to the stuff we wear, people assume we are devil worshippers or something. Now i know there can be some that actually are atheists or Satanists, but its not all. there are metal people of many religions (im wiccan).
Sometimes people assume because of what we wear, and it can be because of the content of music. I have a shirt from an Anthrax concert that I've worn many times, and have gotten pretty bad looks for. However I've gotten a few good compliments as well. These are pics of it.
Now I am someone who doesn't totally care what another person thinks about me, but believe me, it can get pretty damn annoying if they waste their time constantly harassing you and accusing you of stuff. People can hear lyrics of songs and not know the actual meaning, and assume the worst.
Like for example, AC/DC, the song "Highway To Hell". Yeah, I know many people don't see them as metal. I see them as mainly rock n roll but also kinda roots to early metal. One of my favorite bands. Anyway, it is a song that some people think is an ode to the devil. But the reality is, its a song having to do with the band touring in America. They felt like they were literally on the highway to hell from all the driving in this country! So really its an ode to all the driving they did in the U.S.
3. some people think that our lives are bad and that is why we listen to the music.
They think that we could be going through things like a bad tragedy and rebellion. That we'd rather want war and not peace. I listen to metal because I love it. Not because of negative things, however, metal is helpful when you have a negative mindset.
Metal saved me from suicide once because I put all the negative feelings into music. Instead of encouraging me to kill myself, it got me out. Some people think the music makes us bad people and negative to everyone. For me I'm pretty empathetic and social. I get along with many. Though I don't tolerate tons of hate.
4. People thinking emo and metal are the same.
I HATE THIS!! only people who think this are ones who clearly don't actually listen to the music.
5. People who think that Metallica is the only metal band.
Technically, Metallica hasn't always been metal. They went from thrash, to heavy metal, to whatever "Load" and "Reload" was, to rock, to Lars' weird garbage can sounding snare, to lou reed shit, and back to metal. I know that not everyone agrees with that but that's just me.
If someone were to come up to me and ask what genre Metallica is, i'd say "metal" instead of explaining it all. I love just about all their albums except "St. Anger" and "Lulu". I respect how they experimented, BUT the point is, they aren't / weren't the only metal band. There's surely a whole lot more metal bands out there than just Metallica, obviously. Again, anyone who thinks otherwise is someone who surely hasn't listened to metal music.
6. Person saying "but you're too pretty to dress like that, and listen to that music"
*Facepalm*....
7. Trying to dress for a formal occasion, but all you got is band shirts, spikes, and raggedy jeans.
All metalheads have been through this. I have plenty. Only solution is owning a few shirts and things that could be used for those events. any other time I do not wear them. They stay in the back of the closet.
8. Posers and people who wear band shirts cause they "look cool".
Ahh yes, I've seen this plenty. From Kim Kardashian wearing a metallica shirt, to a rap artist (don't know his name) wearing an AC/DC "hells bells" shirt, we've all seen this before. However I will admit, I went through a goth phase in my early teens, and I hated the music. I just liked the style. Yes I do get pissed at my old self over that.
9. Chicks having to get mens band shirts because the girls shirts aren't brutal enough.
The majority of my shirts are mens. Simply for this reason.
10. People who listen to one metal band and consider themselves metal.
I'm not even explaining here.
11. Convincing people metal isn't just screaming.
Yes, I get that some really brutal bands have mainly screaming, but that isn't all about metal. THERE ARE MANY CATEGORIES!!
I know there can be many more problems that could be listed. Anybody got extras that they wanna say? if so then shout it out. And look out for MyTake of the Advantages of Being a Metalhead, coming soon. Any haters that wish to speak their mind hatefully here will be reported. Stay Metal my brothers and sisters! \\m//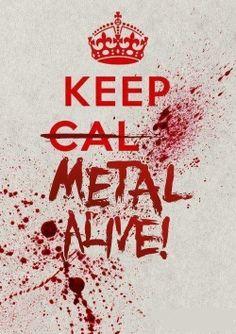 ---