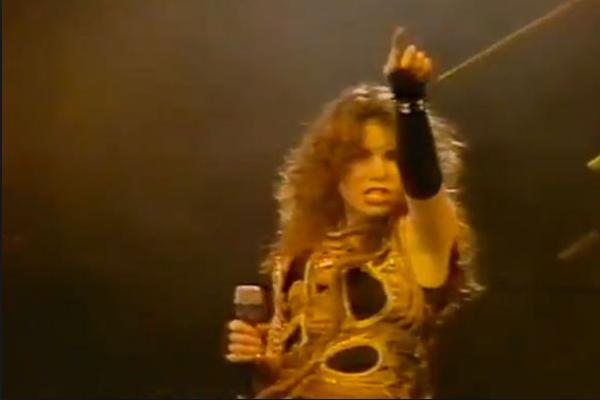 By the end of the 1970s and the beginning of the 1980s, rock music in general was on it's death bed. Disco broke Rock & Roll's hold on pop culture during it's brief (1976-1979) tenure as the top dog of the music industry, and as a result popular music began to lean away from guitar oriented compositions and more towards synthesizers and glossy production values.
Disco eventually imploded in on itself, but rock was still in a rut. In the first 3 years of the Reagan era, New Wave acts such as Kajagoogoo, Boy George and Dead Or Alive dominated the airwaves and Michael Jackson went from being the youngest of The Jackson 5, to becoming the King of Pop.
But Rock still soldiered on, especially overseas.
In England, NWOBHM (the New Wave Of British Heavy Metal) replaced Punk as Ye Olde Countrie's youthful music of rebellion. Ushering in now legendary bands such as Judas Priest, Iron Maiden, Motorhead, Saxon, Angel Witch and Def Leppard. Searing guitars, bombastic drums, psuedo-satanic themes and operatic (or screamed) vocals were the name of the game, and young, budding musicians took note.
However, in 1981 the game was changed. Musicians had to not only write good songs to get noticed, they had to look good and become part showmen as well.
On August 1st, 1981, MTV was launched to the masses, one of the most watched hours of that year...and the vast majority of the videos featured were of Rock artists. This was a major boon for the then-failing genre.
And it so happened that the 2nd video shown on MTV was that of a female rocker.
https://www.youtube.com/watch?v=IvSbQB6-UdY
Pat Benatar was born as Patricia Mae Andrzejewski on January 10th, 1981 in Brooklyn, New York to a beautician mother and a sheet-metal worker father.
As a child, Pat took interest in theater and took vocal lessons, singing her first solo at the age of 8. Unfortunately, she never made it to Broadway but went on to forge a career in rock music, forming the early incarnation of the Pat Benatar Band by 1977 and began working with Blondie and The Knack producer Mike Chapman in 1979.
Her first two albums with Chapman, In The Heat Of The Night in 1980 and Crimes of Passion in 1981, proved to be major hits (Crimes of Passion debuted at #2 on the Billboard charts, right behind John Lennon and Yoko Ono's Double Fantasy, eventually overtaking the legendary ex-Beatle and his waifu for the #1 spot.). By 1982 she had a string of hits ("Hit Me With Your Best Shot", "Heartbreaker", "If You Think You Know How To Love Me", "We Live For Love" and the controversial "Hell Is For Children"- a song decrying child abuse, that was initially banned from radio due to it's title and lyrical content).
Pat Benatar's success opened the floodgates for female artists in mainstream music and others, such as Madonna and Cyndi Lauper, flowed in to the public's conciousness.
At this time as well, an ex-Runaway resurfaced on MTV.
https://www.youtube.com/watch?v=0lX061_Fkv8
Born as Joan Marie Larkin on September 22, 1958 in Wynnewood, Pennsylvania to an insurance salesman father and a secretary mother. Joan Jett, as you know cofounded The Runaways with drummer Sandy West and served as rhythm guitarist and co-vocalist, she also pinned many of the groups songs, including their hit "Cherry Bomb".
After The Runaways ran off a cliff, Joan Jett embarked to England to pursue a solo career and recorded with ex-Sex Pistols Paul Cook and Steve Jones, one song to emerge from those sessions was an early version of "I Love Rock and Roll", after those sessions ended, Joan returned to Los Angeles to fulfill an obligation to manager Kim Fowley- a movie loosely based on The Runaways' brief career, titled We're All Crazy Now, was slated to be filmed with 3 actresses standing in for the departed members, Joan was to play herself but the production died halfway through shooting.
During the ill-fated shoot, she met future collaborator Kenny Laguna and together, they formed a new band named The Blackhearts. The new band entered The Who's Rampart Studios in 1980 and banged out an album. The self-titled debut was rejected by 23 record labels, forcing the duo to release it independantly through their own imprint- Blackheart Records, funded by Laguna's daughter's college savings.
With little distribution, her self-titled album went nowhere initially.
Her Spring 1981 performance at New York's Palladium theater proved to be a turning point, critics heralded it as a career-defining display and garnered Joan Jett & The Blackhearts a devout following. They toured across the country for a year and made another album, titled I Love Rock and Roll and shot a video for the title track, which subsequently made waves on MTV... and the rest, they say, is history (that I couldn't fit into this article).
Joan continued throughout the rest of the decade with a string of smash hits and global acclaim to this very day. A foremost icon of modern rock, Joan Jett was inducted into The Rock & Roll Hall of Fame in 2015. She was a revolutionary on her own terms, remaining relevant while sticking to her guns as the currents of change flowed around her.
.
...Yet there was one who didn't necessarily "flow" into the music world, she violated it's personal boundaries with a chainsaw.

https://www.youtube.com/watch?v=-Hha6TH2R7w
If Madonna was the Pop Princess in the 1980s, then Wendy O'Williams was the Punk Rock Wench that smashed a hatchet in to her door.
Wendy Orlean Williams was born on May 28, 1949 in Webster, New York. She's better known for her stage antics than for her music, her shows featured her blowing up equipment (and cars!) onstage, smashing television sets, near nudity and chainsawing guitars in half. In essence, the female punk rock Alice Cooper...if Alice was a pyro.
Prior to music, Wendy was literally a runaway, hitchhiking her way across the country at age 16 to Colorado, supporting herself by crocheting string bikinis and selling them. Later, her adventures took her to Florida and even Europe, working many different jobs such as lifeguard, stripper and a server at Dunkin' Donuts. In 1978, she landed in California and began working in the adult entertainment industry, first a performer in live sex shows, which lead to her playing a part in the pornographic picture Candy Goes To Hollywood. But she had NO intentions of staying the adult industry.
In 1979, she relocated to NYC and was recruited by her manager Rod Swenson into his newly formed punk rock band, called The Plasmatics. The band shortly became a staple in New York's underground punk and hardcore scene, holding court regularly at the legendary CBGB's. Wendy's onstage antics proved to be major draw as every club date they played was packed to the rafters.
However, Wendy and The Plasmatics were never accepted by the mainstream. In January 1981, Wendy was arrested by Milwaukee Police for simulating a sex act onstage, a scuffle ensued when they tried to arrest her and Wendy was charged with battery and obscene conduct as a result. The charges were later dropped, but she was again arrested in Cleveland for obscene misconduct after she (again) simulated a sex act onstage while covered in only shaving cream and in November was charged with assault and battery after attacking a photographer in Chicago.
Despite Wendy's problems, the band toured the world, bringing their brand of punk mayhem to a global audience. The Plasmatics were barred from playing in London by the authorities for "Safety Reasons" due to the band's anarchist beliefs.
In 1983, The Plasmatics disbanded and Wendy embarked on a solo career. She worked with such luminaries as Gene Simmons and Lemmy Kilmister (who did a duet with her on a cover of the country hit "Stand By Your Man"). In 1984, her debut album WOW was released and featured all 4 current members of Kiss (Gene Simmons played bass on the album, under the name Reginald Van Helsing), she also shot her first proper music video for the song "The Damned", which garnered a ton of playage on MTV for months after it's release.
She also turned to acting, appearing in the stage play version of Rocky Horror Picture She in 1985 and appeared in the b-movie Reform School Girls in 1986.
Sadly, on April 6, 1998 Wendy took her own life after a long bout with depression and drug abuse.
Wendy was a trailblazer, an iconoclast whose spectre still looms over the rock and metal world to this day.
She also, by virtue of being a rebel, gave women in rock music permission to be more than mere sex kittens and things started to get a little wild.
1983 proved to be a breakout year for heavy metal. Quiet Riot's "Cum Feel The Noise" topped the pop charts and took it's album, called Metal Health, with it, Motley Crue's now legendary 2nd album "Shout at the Devil" followed suit and topped the charts as well, the Metal Day at the US Fest music festival was the most attended day of the 3 day event, Thrash bands Metallica, Slayer and Anthrax mad their debuts, and an ex-member of The Runaways (that was not Joan Jett) clawed her way back from obscurity.

https://www.youtube.com/watch?v=j_54_CaDaq0
Lita Ford was born on September 19, 1958 in London to a British father and an Italian mother. When she was in the 2nd grade, her and her family immigrated to the United States where the young Lita grew enamoured with guitar heroes such as Richie Blackmore of Deep Purple and Toni Iommi of Black Sabbath. She began playing guitar at the age of 11 and at just 16 years, was recruited in to The Runaways by manager Kim Fowley.
After The Runaways disintegrated, Lita Ford began playing in various bar bands until she decied it was best to embark on a solo career. Her first solo outing, Out For Blood, proved to be a commercial failure, but her 2nd effort, Dancin' On The Edge, achieved moderate success with the hits "Fire In My Heart" and "Gotta Let Go" and allowed Ford's popularity to grow.
In 1988 she signed with RCA records as Sharon Osbourne took her under her wing as Lita's new manager, which ultimately lead to her duet with Sharon's famous husband, Ozzy Osbourne, on the hit single "If I Close My Eyes Forever". Her self-titled album also spawned the hits "Kiss Me Deadly" and "Back To The Cave" while moving Ford into a more glam/pop-metal direction.
In the 1980s, Lita Ford was considered by many to be the Queen Of Metal. But she had a major challenger for the title just north of the border.
https://www.youtube.com/watch?v=4n6WjXWc-Fw
If you were to ask any Canadian who the Metal Queen is, you can bet your sweet ass that you won't hear the name Lita Ford uttered. To the canucks and many others around the globe, Lee Aaron has that distinction.
Lee Aaron was born as Karen Lynn Greening in Belleville, Ontario, Canada on July 21, 1962 and began singing in school musicals at age 5. Karen joined a band called "Lee Aaron" at age 15 while still in high school, in the band she was co-vocalist and played both saxophone and keyboards. Eventually that band disbanded, as they often do, and Lee Aaron kept the name for herself as her stage moniker.

Her first album, named The Lee Aaron Project, consisted a who's who of Toronto's music scene including Rik Emmett of Triumph, but gained only moderate recognition. Her lively performances, however, garnered her a major following and Canadian music label Attic took notice.
It wasn't until 1984's "Metal Queen" album that Canada and Europe both began to pay Lee Aaron notice, more than likely due to the admittedly cheesy music video that featured the songstress decked out in bikini armor, wielding a sword, handling snakes and spiders with her bare hands and even being chained up and lit on fire.
In Canada, parts of Europe, and in Japan, Lee Aaron was a bonafide star, but her label and her managers prevented her albums from being released in the United States (thus many of you haven't heard of her).
By the mid-1980s, Lee Aaron had already toured with heavy weights such as Motorhead, W.A.S.P and Bon Jovi across the globe and thus was in negotiations with Warners Bros., Chrysalis, Metal Blade, Roadrunner and Capitol Records to release her material stateside, but Attic proved tight fisted.
In 1989, Lee Aaron's album Bodyrock allowed her to shed the "Metal Queen" stigma, moved her into more poppish territory, yielded her 3 hit singles and went double platinum WITHOUT an official US release. But by 1992, metal and commercial hard rock, the genres Lee Aaron practiced in, went by the wayside in favor of grunge. Lee initially dabbled in alternative rock, but was stonewalled by her label and briefly quit the music industry. In the late 1990s, Lee resurfaced as a Jazz singer, got married and had kids.
In 2016, this year, she returned to her rock roots with her new album Fire and Gasoline, which is also her her first album to be released officially in the United States.
________________________________________________________________________
That wraps it up for PART 1 of the 1980s, there's a LOT to talk about just within the MTV era, so stay tuned.
---