Meet The Actors Underneath Their Horror Costume
1 ) Jeeper Creeper Unmasked
Jonathan Breck, played the role of the Jeeper creeper in the movie trilogy - Jeepers Creepers.
Breck, 52, is an American actor and veteran stage actor,as well as a producer. He has starred in at least 11 movies ,but he's most successful for his role as the demonic, Jeeper Creeper
Jonathan Breck
I don't know if it's a demon or a devil...or just some hungry thing from some dark place in time...I just know that it's not gonna stop coming after you, or anyone else it wants to. Once it has the scent of something it likes...It can't, it can't stop. Every 23rd Spring for 23 days it gets to...eat...
2 ) Freddy Krueger Unmasked
Robert Englund, played the role of Freddy Krueger in Wes Craven's classic slasher film - A Nightmare on Elm Street.
Englund , 70, is a veteran actor, voice actor, and director. He has appeared in over 75 feature films and starred in four TV series. But he is best known for playing the infamous serial killer Freddy Krueger in the Nightmare on Elm Street film series
Robert Englund
One, two, Freddy's coming for you.
Three, four, better lock your door.
Five, six, grab your crucifix.
Seven, eight, gonna stay up late.
Nine, ten, never sleep again.
3 ) Pennywise Unmasked
Tim Curry played the role of Pennywise in the movie IT ( 1990 version)
Curry ,71 , is an English actor, voice actor ,and composer . He has starred in at least 58 movies,but his work ranges from theatre, film, and television productions.
Tim Curry
I'm every nightmare you've ever had. I'm your worst dream come true. I'm everything you ever were afraid of
4) Predator Unmasked
Kevin Peter Hall played the title character in the first two films in the Predator science-fiction franchise movies.
Hall starred in at least 9 movies and also played the role of , Harry, in the film and television series, "Harry and the Hendersons". Sadly, Hall died of AIDS , on 10 April 1991,at the age of 35 . He'd contracted HIV from a blood transfusion
Kevin Peter Hall
There's something out there waiting for us, and it ain't no man. We're all gonna die.
5 ) Michael Myers Unmasked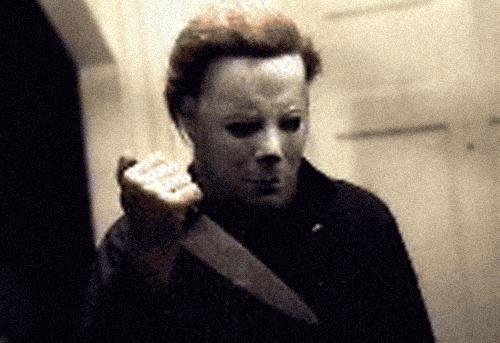 Many different actors played the role of Michael Myers in John Carpenter's Halloween series of slasher movies ,but Chris Durand played the role of Michael Myers in Halloween H20: 20 Years Later (2009)(which is my favorite of all the Halloween movies )
Durand , 54 ,is an American actor and Hollywood stuntman. His stunt-work is really part of his continued success.Durand did stunts for the movies Armageddon ; Maniac Cop II ; The Crow ; The Mask ; Jurassic Park ; and Scream II ...to name just a few
Chris Durand
It just occurred to me today that I've never celebrated Halloween before...we've got a psychotic serial killer in the family who loves to butcher people on Halloween, and I just thought it in bad taste to celebrate.
6 ) Jason Vorhees Unmasked
Kane Hodder played the role of Jason Vorhees in four films from the Friday the 13th horror movie series: He starred in :
Part VII: The New Blood (1988),
Part VIII: Jason Takes Manhattan (1989),
Jason Goes to Hell: The Final Friday (1993)
Jason X ( 2001)
Hodder,62 , is an American actor, stuntman, and author. He was stuntman in" Demolition Man" & he was also the stuntman in "Leatherface: The Texas Chainsaw Massacre III". After working eleven years as a stuntman, he was offered the role of Jason Voorhees in Friday the 13th. Hodder ,has starred in at least 30 movies
Kane Hodder
The only way to kill Jason Voorhees is to destroy his heart. And there's only one person who can do that now that Diana's dead. Her daughter.
7) Leatherface Unmasked
Andrew Bryniarski , played the role of Leatherface in The Texas Chainsaw Massacre slasher horror franchise. He starred in:
The Texas Chainsaw Massacre remake (2003)
The Texas Chainsaw Massacre: The Beginning (2006 - a prequel to the 2003 remake )
Bryniarski, 48, is an American actor and former Bodybuilder. He has starred in at least 20 movies ,including - Batman Returns ,Pearl Harbor & Street Fighter. He's also made many guest appearances on TV shows
Andrew Bryniarski
He ain't retarded, he's misunderstood.
8. ) Jigsaw Unmasked
Tobin Bell played the role of Jigsaw in eight movies of the Saw horror franchise
Bell,75, is an American actor . He has starred in at least 33 movies with a career in film, television and theater that has spanned over three decades.
Tobin Bell
Death is a surprise party. Unless of course you're already dead on the inside."
9 ) Darth Vader Unmasked
David Prowse played the role of Darth Vader throughout the Star Wars movies , but it was Sebastian Shaw who played the moment Darth Vader is unmasked in "Return of the Jedi". . Because this was the moment that Darth Vaders face was finally shown, it is believed that Shaw was the Darth Vader actor underneath the costume
Prowse, age 82, is an English actor in British film and television. He has starred in at least 12 movies ,and trained actors for films including ,Christopher Reeve for the role of Superman . Prowse used to be a competitive Weightlifter , and MBE Bodybuilder.


David Prowse
You underestimate the power of the Dark Side. If you will not fight, then you will meet your destiny.
10) Darth Maul Unmasked
Ray Park played the role of Darth Maul in Star Wars: Episode I – The Phantom Menace
Park , 43, is a Scottish actor, author and martial artist in kickboxing, taekwondo and wushu.He became a member of the Great Britain Wushu team, and competed in his first international in Beijing.He was the first Wushu athletic from Great Britain and Europe to place in the top seven in the world.Park ,was a stunt double , and martial arts advisor to one of the stunt coordinator's for "Mortal Kombat: Annihilation".He has starred in at least 9 movies including ,Toad in X-Men and Snake-Eyes in G.I. Joe: The Rise of Cobra and G.I. Joe: Retaliation
Ray Park
At last we will reveal ourselves to the Jedi. At last we will have revenge.
Although Darth Vader and Darth Maul aren't horror movie characters,i believe they were worthy of a mention
---