My table longer than a runway 🤣 Forreal, i invited so many of my faves and the Mad Hatter ain't got nun on me. If i didn't invite a certain celeb, its likely cause i dont like em lol. But here's my hot 100. Oh yea and i totally invited some based off personality rather than talent.
Sitting at Table 1 is Dua Lipa, Natasha Bedingfield, Bad Suns, Noah Cyrus, Beyonce, Imagine Dragons, Shakira, Calvin Harris, Sage the Gemini, Tamia, little Wayne, Yolanda Adams, Julia Michaels, Austin Mahone, Nicki Minaj Nicki Lewinski Nicki the Harajuka Barbie, Ludacris, Kirk Franklin, Usher, Kehlani, and Enrique Sexy Iglesias
Table 2 Consists of Sugarland, Bazzi, Ellie Goulding, little Jon, Chris Daughtry, Gwen Stefani, One Republic, Muse, Alessia Cara, Missy Elliott, Train, Aly&AJ, Timbaland, Faith Hill, Tove Lo, Tpain, Shania Twain, Nicole Scherzinger, Phillip Phillips, and Hunter Hayes

Table 3 Consists of Amine, Vanessa Williams, Mary J Blige, Hailee Steinfield, Swae Lee, HER, Mya, Trina, Snoop D O Double G, 6Lack, Sza, Busta Rhymes, Monica, Young Thug, Faith Evans, Mos Def, Qtip, Daley, Chingy, and Ashanti

Table 4 Consists of Keith Sweat, LMFAO, 3Oh3, New Edition, Ying Yang in this Thang, Queen Naija, Janet Jackson, Chaka Khan, Coldplay, Demetria Mckinney, Pharrel, Elle Varner, 21 Savage, Adrienne Bailon, Juvenile, Kap G, Eve, Jamie Foxx, Sisqo, and Meg Thee Stallion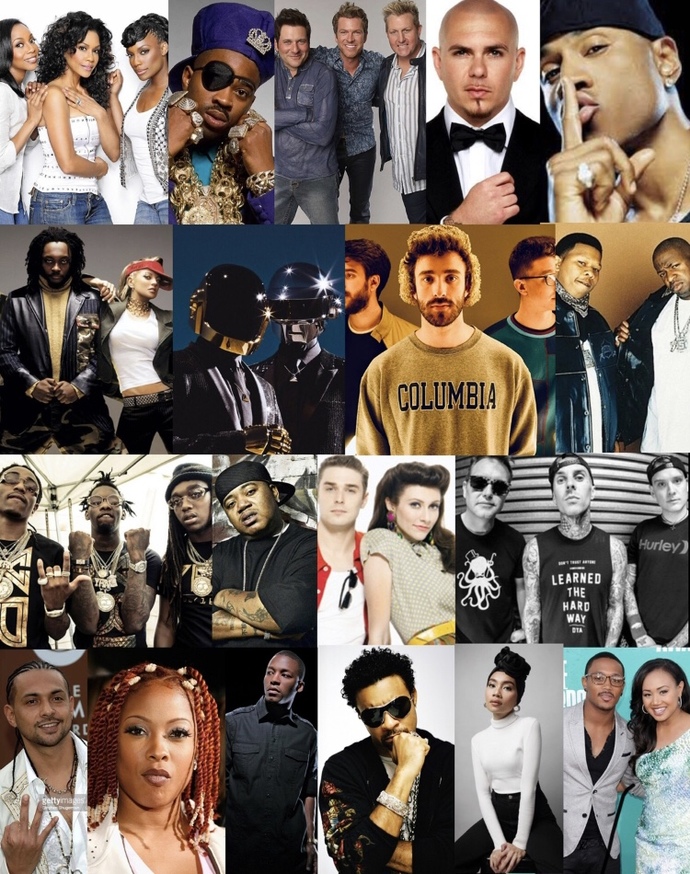 Table 5 Consists of En Vogue, Slick Rick, Rascal Flatts, Pitbull, LL Cool J, Black Eyed Peas, Daft Punk, AJR, Big Tymers, Migos, Twista, Karmin, Blink 182, Sean Paul, Da Brat, Lupe Fiasco, Shaggy, Yuna, Romeo, and Cymphonique.


SO WHO'S AT YOUR DINNER TABLE THAT I COULDNT HAVE POSSIBLY NAMED LOL. (Meanwhile, my dinner party setup lookin like…)

#FeelFreeToList
Updates: