I saw this at the library and it was far too interesting to pass up. I was going to find a way to post this as a question but there were 12 so what this will be is listing the books 12 gifts of birth and brief sentence or so on each gift, with me making assumptions as to what the author thought. But I am curious as to your interpretation and your thoughts about the existence of this book
1. Strength
I assume it might have to do with the physical power in birth but probably more so the courage to get to the choice of keeping the child but even then motherhood is a big challenge and carries responsibilities of its own.
2. Beauty
I think there is a beauty in life and a beauty in motherhood with specific note of the glow of a mothers skin
3. Courage
I had a feeling they would double up on this but while strength and courage can be seen to go hand in hand, there is a labor and caring for the child which is the strength but courage can be seen as an idea, a mentality that helps a woman push forward
4. Compassion
You need to have mercy on your husband every once in a while and on your child
5. Hope
You look forward to the future, hoping for a good pregnancy and a hope that you will be a good mother
6. Joy
this one is rather simple but the joy that comes from a child and being a mother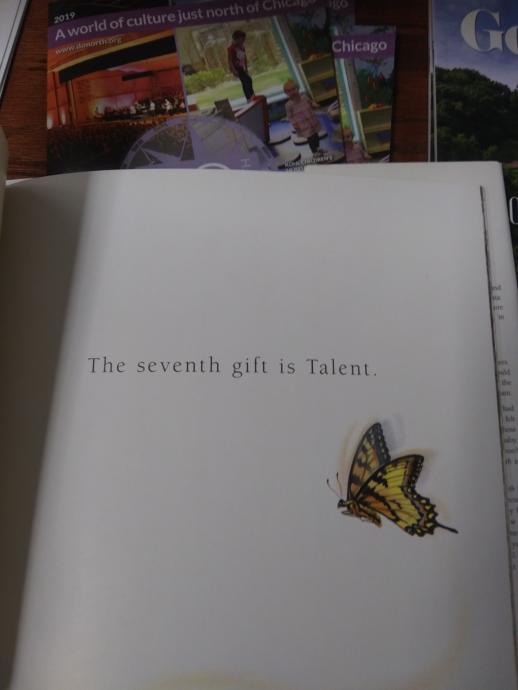 7. Talent
The talent of your child or just the reason that it takes true talent to be a mother and a parent
8. Imagination
To entertain a child you need some child like qualities and that would involve imagination but also the simple imagination of a child
9. Reverence
I would call it respect and awe for what you have created and what you have been given
10. Wisdom
This is pretty self explanatory but the Wisdom of parenthood can teach us many things and helps us to grow into a more mature person
11. Love
This might be the best gift of them all. To show love and to be loved
12. Faith
I assume this relates to religion aka belief but I would take it a step further and say that you need faith that you and your child will make it and survive
What do you think of this book? There were more pages to each with poems but what do you think of the gifts?