The other day I was shopping for some Summer clothes. Unfortunately, I couldn't find any that were "my style". I want to know your opinions on female clothes, and if you would wear them. (I will have the link below each image to the store they are from in case you like any of these styles)
Please keep in mind while you are reading that I do not object to other people wearing these things, and if it sounds like I do I apologize. I am simply objecting because I am quite insecure and I would rather have my body as covered as possible. It is nearly impossible to find clothes I consider decent in my size, and that is what this myTake is about. Please don't take it the wrong way.
1. Shorts
I know, when it's hot out you don't want to be wearing any clothes that aren't necessary. However, I would prefer to have my butt covered.
Ardene: https://www.ardene.com/en/clothing/bottoms/shorts/rr-shorts-13.html
Forever 21: https://www.forever21.com/CA/Product/Product.aspx?BR=f21&Category=bottoms_shorts&ProductID=2000204940&VariantID=
American Eagle Outfitters: https://www.ae.com/women-aeo-denim-x-hi-rise-shortie-beautiful-bleach-out/web/s-prod/1333_4501_932?cm=sCA-cCAD
2. Crop Tops
I am way too insecure to wear crop tops, plus they make your stomach cold.
This is basically a bra!
Ardene: https://www.ardene.com/en/clothing/tops/stripe-tie-back-halter-top.html
I have to ask. Doesn't the top having long sleeves kind of defeat the purpose of wearing a crop top?
Urban Planet: https://urban-planet.com/0996-02292681-lace-up-crop-long-sleeve-top-apparel.html
3. See Through ("Sheer") Shirts
Just because a bra has lots of straps doesn't mean that you can wear a see through shirt over it!
Forever 21: https://www.forever21.com/Product/Product.aspx?br=F21&category=top&productid=2000067655
No. Just No.
Revolve: https://www.revolve.com/dolan-drape-back-tee-in-black/dp/DOLA-WS257/?d=Womens&lang=EN&clickid=wBXSBzTh53Eb0wlRSsyP42yHUkSSteVB3w7fwQ0&utm_campaign=57486&utm_medium=affiliate&source=ir&utm_source=ir
4. "Dropped Arm Tank Tops"
Again, you can see 90% of your bra when wearing these.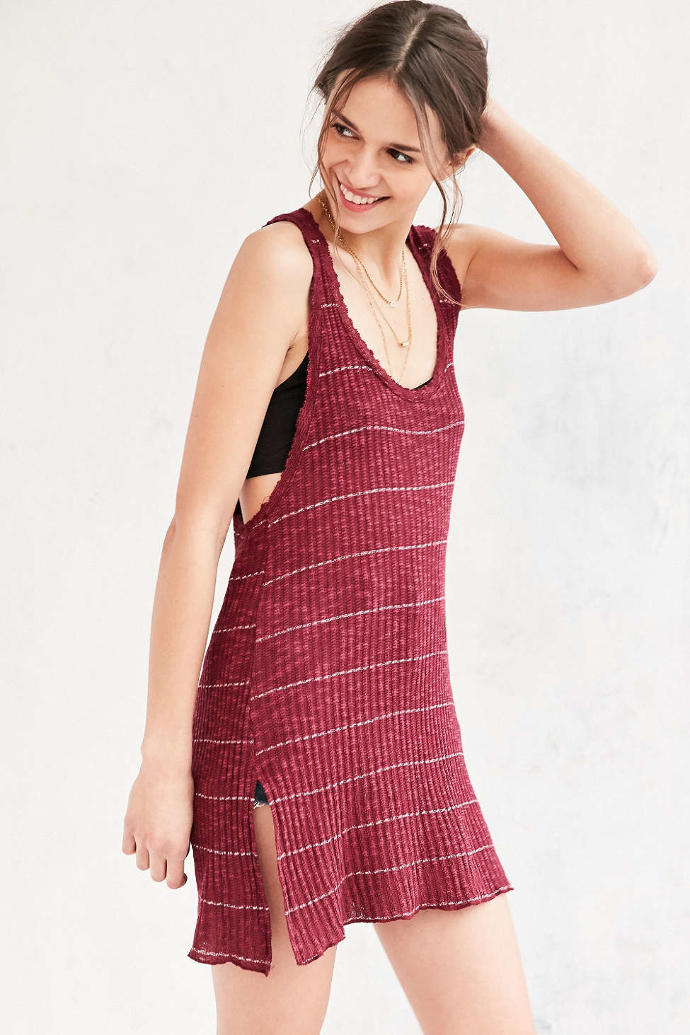 Urban Outfitters: https://www.urbanoutfitters.com/ca/en/catalog/productdetail.jsp?id=38158549&category=SEARCH+RESULTS
(I couldn't find many of these types of shirts with actual stores attached to them, most were DIY.)
5. Leggings
I love leggings, but I do not love them as pants. Also, I don't think they look very good with crop tops...
Ardene: https://www.ardene.com/en/clothing/bottoms/leggings/high-waisted-legging-10.html
I could go on forever, but I think this post is long enough right now. Thanks for your time. :)
P.S.
I'm not a person who is usually into fashion, but for some reason it's been on my mind lately, if there are any errors in this post, feel free to point them out. (Preferably in a respectful way.) Thank you.
---