Note: Hey everyone! The following story is a college essay that I had written that has gotten a lot of appraisal from my English teacher. I just thought I would share it as a myTake. Hope you enjoy!
One by one, my mother would twist my virgin hair into long, voluminous braids, and then seal them off with hair accessories. This used to be a daily routine before school, then she would take me to the bus stop and wave goodbye as it drove me and thirty other kids to school.
I was a shy girl in elementary school, and due to that imperfection, I didn't have many friends. I was quiet, but observant and intelligent. Oh, and I had an obsession with stuffed animals, and would bring a different one to school every day to play with my small group of friends.
During recess was when I would look around. My eyes wondered over to a group of children, and the first thing I noticed was their hair, particularly one girl's hair. I thought it was gorgeous: their hair was a golden color, cascading down their back like the rapids, and it glistened in the sunlight like a meadow full of buttercups. I was amazed, then my admiration turned to jealousy. My hand touched one of my braids, and felt down the length of it. The texture was not the same, and the feeling was like that of sheep wool. I was different and started to become aware of it.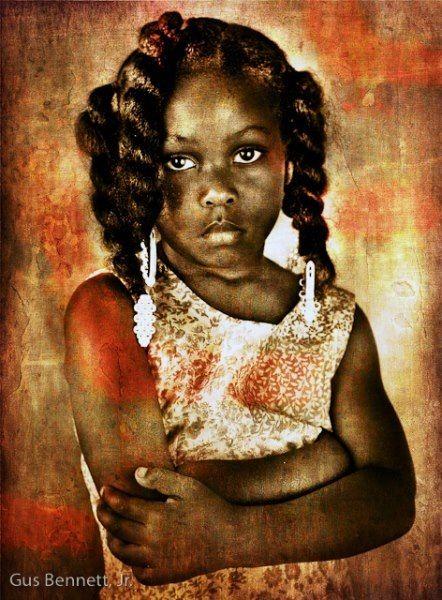 My obsession with my hair only grew stronger, and after seeing the little light-skinned girl, I began to desire long, straight hair. I wanted hair that would move when I would turn my hair, and would slide effortlessly through my fingers when I ran them through it. I wanted it more than anything. My mom would run a straightening comb through my hair when I got older, which had loosened up the texture of my hair, but it was not near the texture that I truly desired.

When I was about nine, I begged my mom to get me a perm, the magical serum that would morph my hair into the same straight texture, and would expose my real hair length. I went to the hair store with her and picked out the kid's treatment. The brown girl on the box was gleaming with joy as she showed off her newly permed hair. It appeared healthy and shiny as it fell to her shoulders like a watery wall. It was what I was hoping it would do for me, and would fulfill my desire of having hair like the girls at school.
She stood me up on a kitchen chair and pushed my head into the sink, washing my hair with the included shampoo and conditioner, then she coated my head in this cool, thick, gooey stuff that would transform my poodle-like hair into something completely different. My mom sat me down, and we waited about ten minutes (which felt like hours), as my head tingled and burned from the chemicals that were straightening my hair out into what I wanted. I ignored the pain because it meant fulfilling my dream of having the texture of hair I wanted.
Time was up, and my mom rinsed the burning concoction out of my scalp, and my hair fell down in jet black ringlets, which caused me to smile. After moisturizing, blow drying, and brushing, my poodle hair was now halfway down my back and completely straight, like what the girls at school
had. I absolutely loved it.
"Hey, I like your hair!"
"Your hair is so cute like that."
I got so many compliments on my hair when I went back to school, which made me feel so much better about myself. I would reply with a "thank you" and go on about my normal day. Why didn't my mom allow me to do this sooner, I would think so myself. Not only did I have the hair texture I wanted, but it made me a lot more popular and outgoing. This was great.
Pretty soon, my hair curled back up into tight ringlets when I went out in the rain without a hood or umbrella. They weren't as defined as they once were, but it was still different than my hair was a couple of months before.
So I got it flat ironed. I would flat iron it every couple of days, going through these frantic fits of panic when my hair wasn't perfectly straight, or the perfect texture. I loved my hair straight, and didn't want it any other way.
Over the span of a couple of years, however, my hair got noticeably shorter. It wasn't as healthy as it used to be, and it broke off fairly easily as my hair got finer, more brittle. I didn't care at the time, though. I wanted my hair straight, and continued to flat iron and relax my hair.
After noticing that my hair was becoming more frail, I would wear it in protective styles like braids or twists to slow down the damage. My mom had forced me to go natural for my 10th grade year of high school. She would only allow them to flat iron my hair, and nothing else. The method of treatment worked in restoring my hair, and it became healthier, and stronger over time. I still had a pang of envy, though. I wanted Caucasian hair. I wanted long, shiny hair like I saw in the media. It was gorgeous, but I was stuck with my tightly coiled hair. Self hate. I was the queen of it at the time.
So then, June 2016 rolled around soon enough, and I was enrolled in a summer camp where I worked as a chaperon. We helped people around our community with their houses and yards, and we were taking a break from it by going to our local wave pool.I only had one thought straying in my mind: Do NOT get my hair wet.
So we all packed our bags, adorned our bathing suits on and huddled in the van to the pool. That thought would not give up
I was hesitant to get in the water.my hair was in a high bun, and I did not want to get it wet. It wasn't relaxed, and would curl back up. All the chemical damage was gone after months of treatment at the salon I went to, but it wouldn't be straight anymore. I was annoyed at the thought.
My friends talked me into getting in. The water was freezing, and goosebumps appeared on my arms and legs as I walked down into the water. I just stood in place like a statue, afraid to dunk my head in to swim.
Then, the waves started.
My hair was soaked.
The straight hair that I was rocking for months on end was now tightly-coiled ringlets that I tried so desperately to run away from. My natural hair texture was ruined, and I was a little annoyed at myself for getting it wet. Now I would have to flat iron it again and...
"Your hair looks cute like that," my friend said with a gleam.
I smiled, and expressed my appreciation. "Thank you!"
It wasn't so bad after all. In fact, it was cute. My hair was in a full afro, and my curls were defined from getting wet with water. What made it so great, though, was the fact that it was mine, and was what made me unique.
I've been completely natural for 2 and a half months now, and will continue the journey, along with many other African American girls and women.
What's the moral of this story? You don't need to conform to societal standards of beauty to be beautiful, and that you shouldn't try to. So many girls are influenced by the world around them, and try to change what they already have. Not that this is a bad thing, but the fact of the matter is that many do it out of insecurity, not because they like it that way. It shouldn't be like this, as I finally learned to appreciate natural black hair and how beautiful it as along with other textures. Hell, they're all beautiful. Embrace what makes you special, what you have naturally. You will feel free, not having to conform to what is pushed as the norm.
When you learn to love yourself, you will unlock a whole new level of feeling free. Embrace those lovely curls, those beautiful waves, or that sleek, straight hair. They're beautiful, just like you.
All art belongs to the respective owners.
#BlackGirls #CurlyHair #SelfLove
---