At the Schaumburg Woodfield Mall in Illinois. They had opened for the holiday season a so called pop up version of the Portillo's Restaurants located in the Chicagoland area and suburbs.
So I decided to share some of my pics from that
but as a starting pic, that shows the mall, this a photo that shows some of the layout of the mall but also shows the Portillo's Experience barely at the bottom but also shows Santa Photo time which will come up a bit later
It is not too often to see Portillo's clothing but they had some clothing options in the store/experience
They had many interesting things, including something called a fry room which I am sure there are pics on social media about that but another fun part of which my camera blurred... :( was a scratch and sniff wall in which the smells were very close to the original although its not surprising considering they put money into it but it is hard to get scratch and sniff right
There were many photo opportunities, in fact nearly the whole place was :)
Including this interesting design of an onion ring swing of which I just had to sit in and get a picture with
They also had a fun erasable board of which I made my mark :)
They also had a Portillo's catering section which made up most of what they had to offer for actual food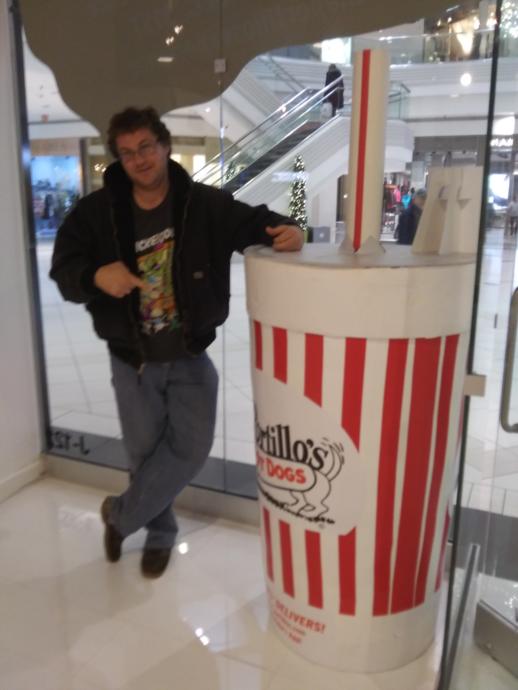 I had to get a picture of a huge soft drink cup :) blurry again …… but in my defense a friend was taking my picture :)
Starting out my friend wanted to go to some clothing stores, and I think this one was either Express or Banana Republic but I thought the pine tree décor was a nice touch, it was a shame too that my friend signed up for a credit card but would not give him the 20% card discount because it was still processing, I think I agree with him, if you are making a commitment to their card you could override a price one time in honor of that commitment
Next place that was looked at was the Microsoft store.
It was pretty fun to see their Minecraft and gaming setup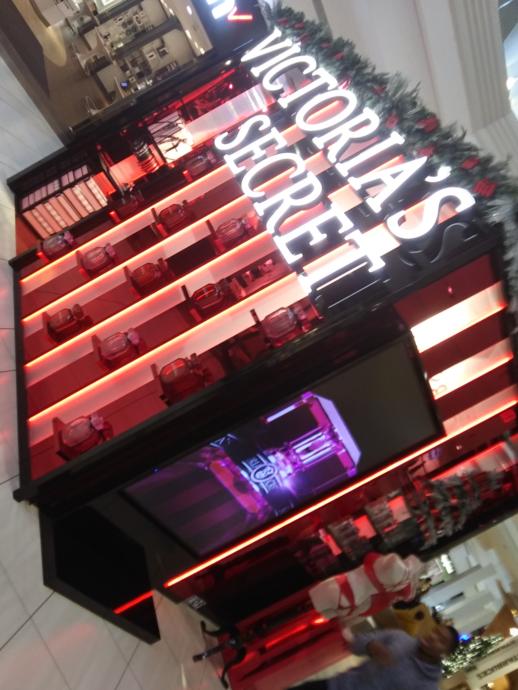 as I walking through the mall, they had some interesting middle sections, including a one section for Victoria's secret which was on top of the they fact they had store just down the hall from this
I was interested to see mac and lush makeup stores I had not heard of them before... but they also had a Nyx store which I thought was interesting
Some other interesting places was Garrett, I don't recall even seeing that name before at any other mall, it looks like it might be good try out sometime. I had gone to the food court too and encountered a wash station but I will include that pic with others as questions later...
This was an interesting looking experience but I did not try it... at least not yet anyway....
I thought it was fun to see an art gallery inside of a mall, I feel like it does not happen that often...
So from the start, I had briefly talked about this. I really just wanted to see inside this place... It looked so cool... and no line and my friend said this is the place for Santa, I said no its an ice palace!!! Knowing he probably was right and he was :)
So this is what it looked like on the inside, cause I was seeing the inside! I was making that happen! and they said that this was for Santa but after enough awkwardness :) from me just wanting to look inside they just let me and even offered to let me sit on Santa's lap and get a lollipop :) I just took my time looking briefly inside, they had loose fake snow falling from the ceiling and all over the floor. I said no and waved to Santa on the way out :) and that was my brief mall experience for the day, but I also went and saw gameworks, a fancy Starbucks and a lego store briefly too :)