Me and my ex were trying to be friends for a while and things were kinda working out.. She was different and I was being nice but last night she was being a bitch... She sId somthin to me that kinda fucked with my pride and it was very disrespectful to me... If she were a guy I'd break her jaw!😓😒 but I don't hit females so i can do is just stay cool about it.. My he bitch told me I as the weakest guy... Damn that shit made me mad though.. She's said some cruel shit before but this one kinda got under my skin so bad I don't want shit to do with her anymore. But I can't decide if she said it out of anger or if she really mean that shit cuz we were arguing first... And it escalated and thats when she said that shit... Anyone got any advice for me? Do you lasies say this type of shit just to hurt feelings?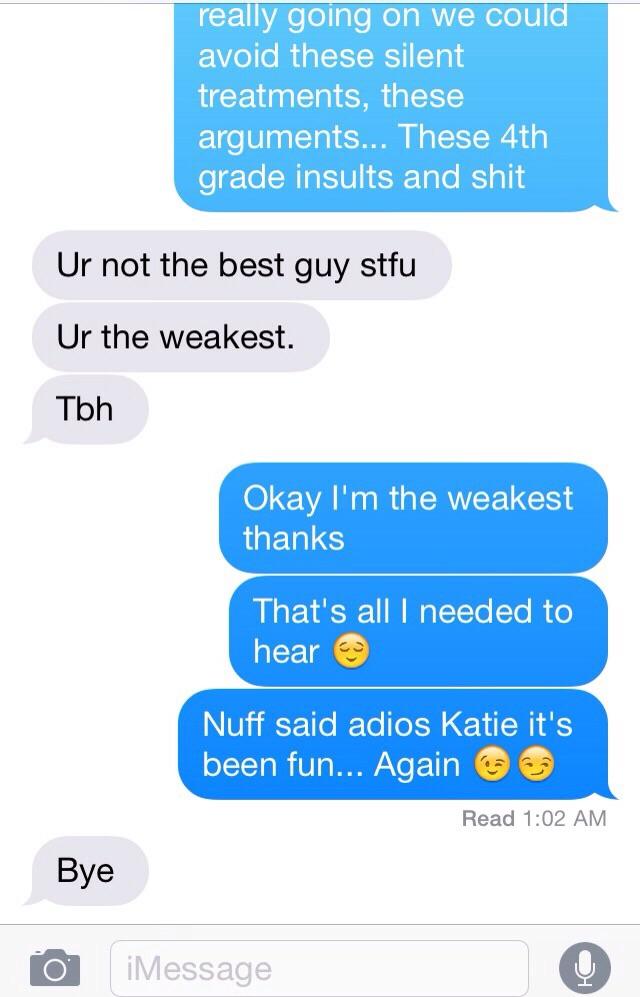 Just don't talk to her again she's playing head games

She was probably just mad and blowing off steam, she'll come around give it time

That was messed up, she seems like she meant it😕
Select age and gender to cast your vote:
Updates:
---
Most Helpful Girl
I used to say shit like that to my exes. I always get so angry and hurt that they left me, that I will say anything to fuck their shit up. I usually don't regret saying it, because it will always anger me when someone brings up the fact that we dated. As soon as it's made clear that we're broken up, the guns come out. I'm one of those girls that gets hurt constantly by everyone so when someone does hurt me, I make damn sure it's never going to happen again. Call it messed up, call it immature, I don't care, but it works for me and I'm sure the girl after me will appreciate my humbling them.