Introduction:
For this take in the #BATTLEROYALE , I want to talk about money in sport. The initial idea for this piece was an analysis of the record transfer fees in the football/soccer world especially the English Premier League which would be the one I would know the most about. As I was fleshing the idea out, it broadened to a couple of points, (1) How the fees continued to rise even against the backdrop of financial recession? (2) How the clubs behaved? (3) How the stars of sports, music and acting seemed to be insatiable, always wanting more even much more than they could possibly want in a lifetime (4) How there seems to be a problem with giving young people lots of money and fame - A lot of them end up behaving very badly as we saw with Ryan Lochte's frat boy behaviour in Rio and his lies catching up with him, losing him all his endorsements.
(1) Transfer Records :- The backdrop for this take is the progression of the transfer records in British football/soccer.
British Transfer Records -
1893 Willie Groves West Brom To Aston Villa £100
1905 Alf Common Sunderland To Middlesbrough £1,000
1922 Syd Puddefoot West Ham To Falkirk £5,000
1928 David Jack Bolton To Arsenal £10,890
1955 Eddie Firmani Charlton To Sampdoria £35,000
1957 John Charles Leeds United To Juventus £65,000
1961 Denis Law Manchester City To Torino £100k
1977 Kevin Keegan Liverpool To Hamburg £500k
1979 David Mills Middlesbrough To West Brom £516k
1979 Trevor Francis Birmingham City To Notts Forest £1.1 mill
1995 Stan Collymore Notts Forest To Liverpool £8.5 mill
1996 Alan Shearer Blackburn Rovers To Newcastle £15 mill
1999 Nicolas Anelka Arsenal To Real Madrid £22.5 mill
2008 Robinho Real Madrid To Man City £32.5 mill
2009 C. Ronaldo Man United To Real Madrid £80 mill
2016 Paul Pogba Juventus To Man United £90 mill

The quite interesting thing I notice here is that the eras that I definitely know to be recessions in Britain were the 1950s, 1980s and the period 2008 to 2016 yet they all show huge increases in the transfer records at these times. Maybe some analogy can be drawn that sports or escapism becomes more important at this time.
(2) When Football Became A Business:
I would say it was the late 1980s when money became the most important thing in sport. The advent of Pay Per View television especially in sports led to a influx of cash and marketing into many sporting arenas. Real Madrid for instance started the policy of "Galaticos" signing a superstar every summer. To show the modern era in its clearest sense, each Real Madrid transfer was financed half by the football club and half by the marketing side of the club so how marketable a player was, is just as important as how good he was (David Beckham was a galatico, a good player but not world class, his unique selling point, he was the biggest brand in world football at the time)
A coach dreams of signing a world class player, a marketing man dreams of signing the first world class player from the US, China or India and would be really annoyed if he was Icelandic. In the 2000s we had the hobby owners Roman Abramovich at Chelsea and the Arabs at Man City who just threw money at the club to win things but that era has seem to have become more businesslike with the motto we will spend to remain successful but to also make money of that success.
(3) How Much Is Too Much? :- Paul Pogba, the world record signing for Man Utd during the summer is on a contract for wages of 400k Sterling a week ( 468k Euro, 528k Dollars). Okay he is 23, if he bought a nice house and lived till 90 with a reasonable weekly allowance, he would probably have enough for that after a year, what does he do with the rest. There has to be a stage when he has a telephone number bank balance and say I don't need anymore. On top of that, he probably has sponsorship deals and a clause in his contract that states if anyone comes in at a higher wage, he can renegotiate his wages. I wouldn't give it back to the club, they would just put it in the profit column. I just feel sometimes when I see expensive tickets for matches and expensive replica kits, it sticks in my throat a little bit.
(4) The Cost Of Fame Sometimes Is Too Much :-
Who was the best footballer ever - In my era the candidates would be Pele, Johan Cruyff, Diego Maradona, Zinedine Zidane, Christiano Ronaldo and Lionel Messi. Pele was asked "Who was the best player he had ever seen?", he said "George Best" a player from Northern Ireland whose career faded in his mid twenties due to alcoholism brought on by a party lifestyle. The quality is not great in the video but soccer fans will enjoy it.
I used to cringe at the role model argument but as I got older I have begun to see that it had some sense. For every young person who makes it in sport, music or acting, there are thousands who end with crushed dreams so as well as being a role model they owe it to those who fell by the wayside. When George Best did TV Interviews in later life, he used to tell a drinking story about winning 10k (a lot at the time) in a casino and he was on a hotel bed with a Miss World with the 10k spread around them.
He ordered champagne, an Irish hotel porter in the London hotel came in with the champagne, looked around and said "Where did it all go wrong, George?". There was always a strained laugh in the audience and you could see in audience's eyes, most understood what the porter meant. I think George knew himself but he had played the drunk for so long, he kept it up.
George Best died aged 59, impoverished and a broken man. For the last few months of his life, his family would often make public appeals for people not to buy or give him drink. Maybe we should look up to another legend from Northern Ireland for a role model, champion jockey for 20 years in a row often with double the winners of the runner up. AP McCoy, able to be a champion without being an idiot or an arrogant jerk, his last race meeting, most of the jockeys, racing folk and crowd were in tears.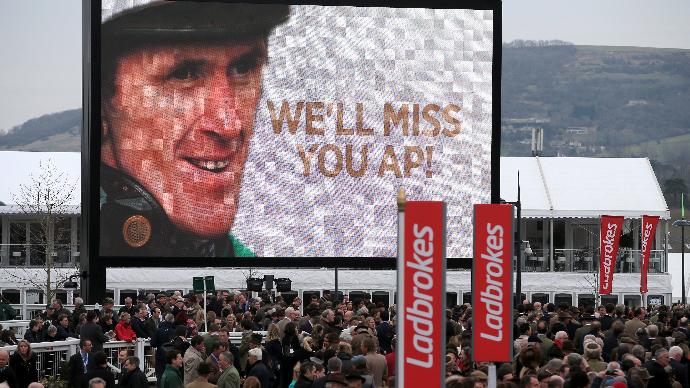 Conclusion:- I think this quote sums it up for me
I think we can become bewitched by shiny things like money but there is part of me that says isn't there more to it?
It should be a reminder to us that success can be measured in many ways, not just by your bank balance.
Thanks for reading.
---