I started writing this before I finished the one about Flash (Barry Allen).
10. He can talk.
He's always been able to. This might be surprising to movie fans but you probably know it if you're an avid reader of comics. His English is broken and he usually speaks in third person, but he can still form complete sentences.
I still want to see him speak more than five words in the movies. The most we've gotten from him in them is probably "Hulk smash puny human!".
9. He was originally grey.
They did plan for him to be grey and even made him grey in the first appearance.
They only made him green in the second issue because they ran out of ink. They decided to keep him that way though, and later explained it by saying that there are two Hulk personas inside him. Grey Hulk still makes appearances and is nicknamed Dr. Joe Fixit.
He's the weakest version of Hulk though. I'm pretty sure even Thing and Iron Man (with a standard fully-powered suit) are physically stronger than Grey Hulk.
8. He's angry because was abused as a child.
In The Incredible Hulk #312, it was revealed that Bruce's alcoholic father, Brian Banner, beat him as a child because he was scared of his son's uncanny intelligence. When Bruce's mother intervened, his father killed her.
Years later, after Brian is released from prison, Bruce confronted him at his mother's grave. The two got in a fight, which ended with Bruce in turn killing his father.
The young Banner immediately represses the incident until by chance one day he gets blown up by a gamma bomb and all that bottled up anger takes the form of the Hulk.
7. Lou Ferrigno has appeared in every live-action adaptation.
For those of you who don't know who he is, he played Hulk in the '70s live action TV show.
And there's no CGI used here. That's how big he really is.
In both 2003's Hulk and 2008's The Incredible Hulk, he cameos as a security guard and, in the latter, delivers all six of the words spoken by Hulk. In The Avengers and The Avengers: Age of Ultron when the Hulk grunts and says awesome things like "Puny Gods" – that's Lou we're hearing. He was also the voice actor in the '90s Incredible Hulk animated series.
6. He once conquered a planet.
This happened in the Planet Hulk storyline when he was banished to another planet by the Illuminati; A group consisting of Tony Stark, Reed Richards, Doctor Strange, Professor X, and a few other characters. They believed this would keep the Earth safe and that he would eventually find peace.
They planned to send him to a peaceful planet but he ended up landing on Sakaar, which was ruled by the Red King, who had slaves and was pretty much a dictator. Hulk gets captured as a slave and gets forced to fight gladiator battles.
Hulk revolted against him and was looked at as a hero by the resistance. He finally defeats the Red King and frees everyone on the planet. They then pick him as their leader.
He also decides to abandon Earth so he could live on Sakaar. But he changes his mind after the death of his wife Caiera (who was pregnant with his child).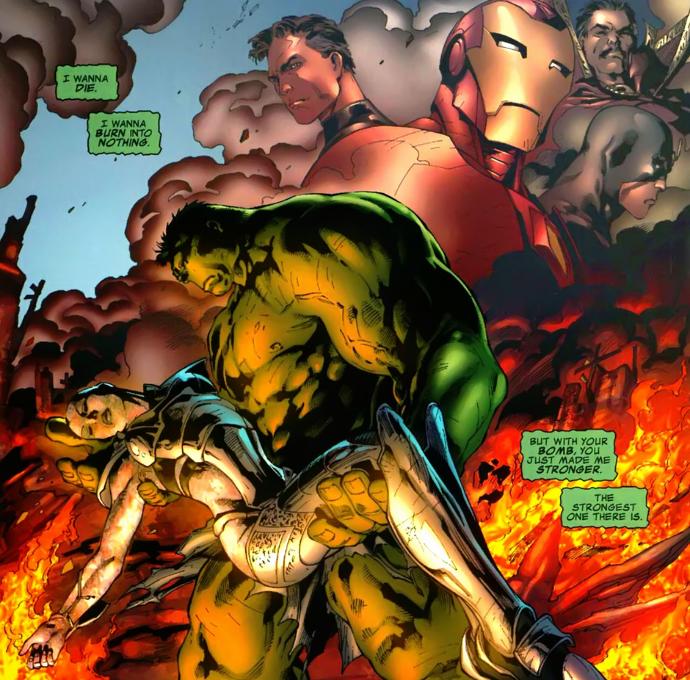 This is when he decided to wage war on Earth with his own army in another story called World War Hulk. He blamed them for her death.
There's a Planet Hulk animated movie too but they did cut out a lot of scenes in order to make it family friendly. It does give you a good idea of what the story is about though.
Bonus Fact... His story in Thor: Ragnarok is going to be similar to Planet Hulk.
Fans were assuming this since Planet Hulk took place parallel to Civil War in the comics, and Hulk wasn't in Civil War. They did confirm that he's going to have a major role in the next Thor movie, so there were rumors that he would be in outer space. These rumors have been confirmed now and they even revealed his gladiator armor.
He fought Silver Surfer in a gladiator battle in the comics but the animated movie changed this to Beta Ray Bill. It seems like it'll be Thor in the live action movies though. I'm excited :D
5. His transformation originally wasn't related to anger.
Or any emotion. He'd just transform into Hulk at dusk and and revert back into his banner form at dawn.
The comics didn't sell well enough because of this and it got cancelled after 6 issues. His next appearance was in Avengers #1.
4. He has children.
Two of them (Skaar and Hiro-Kala) are twin sons he had with Caiera in an alternate universe where she didn't die during Planet Hulk. There's also Lyra, the offspring of Hulk and Thundra, who time travelled from an alternate future to grab some of the green giant's DNA and use it to artificially conceive a genetically modified Hulkette.
3. He can usually heal faster than Wolverine.
I'm not talking about bone-claws Wolverine here. The adamantium in his skeleton slows down his healing factor, so Hulk's actually works faster than his. This is also why Deadpool can heal faster than Wolverine, even though they have the same healing factor. Hulk once managed to grow his head back after being decapitated.
2. He can see ghosts.
He has a bunch of powers that most people don't know about. One of them is the ability to breathe underwater by controlling the pressure. Another one includes surviving in outer space by producing oxygen. He also has the ability to see ghosts, thanks to his messed up aforementioned relationship with his father.
Bruce Banner has such an overwhelming fear of being haunted by his dad, that he unconsciously provided the Hulk with the ability to see and interact with paranormal apparitions. Fortunately, Hulk eventually overcomes this fear when he visits Hell and beats up his father's ghost. This also lets him see Doctor Strange in his astral state.
I think this would make for a good Easter egg in the Doctor Strange post-credits scene.
1. The inspirations of his character were both Frankenstein's monster and Dr. Jekyll and Mr. Hyde.
I'm going to quote Stan Lee.
When I was younger, I loved the movie Frankenstein, starring Boris Karloff as the monster. I also loved Dr. Jekyll and Mr. Hyde. And one day I figured, "Wouldn't it be cool to combine both of them and create a monster who can change from a normal human into the monster?" I always felt that in the movie Frakenstein, the monster was really a good guy, who didn't want to hurt anybody and was always being chased by idiots. So I thought "Why not get a sympathetic monster but let it be a guy who could change back and forth?" So I decided to call him the Hulk.
I still haven't decided which character I'm going to do next. I'm thinking about doing Captain America but I might also end up doing a villain. Let me know which one you want :D
#ComicBookTrivia #LTComicTakes
---